Sydney Darts Masters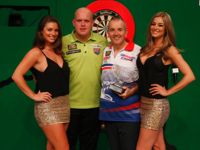 Die Sydney Darts Masters sind Teil der World Series of Darts und finden vom 28. bis 30. August im Hordern Pavilion, Sydney, Australien statt.
Titelverteidiger ist Phil Taylor, der Michael van Gerwen im Vorjahr mit 10:3 besiegen konnte.
Insgesamt acht PDC Profis reisen nach Sydney. Neben The Power sind dies Weltmeister van Gerwen, der beste australische Dartsspieler Simon Whitlock, der siebenmalige Major Turnier Sieger James Wade, WM-Finalist Peter Wright und World Grand Prix Finalist Dave Chisnall. Zwei PDC Wildcards wurden an den amtierenden BDO Weltmeister Stephen Bunting sowie an Premier-League Sieger Raymond van Barneveld vergeben.
Zusätzlich gehen sieben weitere Spieler für Australien und Warren Parry für Neuseeland an den Start.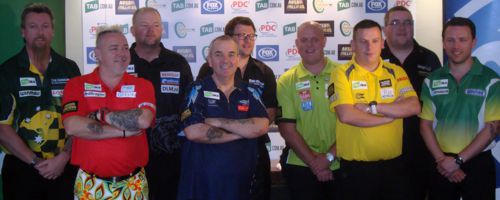 Sydney Darts Masters Spielplan
| | | |
| --- | --- | --- |
| Dave Chisnall | 6:0 | Damon Heta |
| Stephen Bunting | 6:1 | John Weber |
| Peter Wright | 6:0 | Loz Ryder |
| Raymond van Barneveld | 5:6 | Kyle Anderson |
| James Wade | 6:1 | Shane Tichowitsch |
| Phil Taylor | 6:2 | Paul Nicholson |
| Simon Whitlock | 6:2 | David Platt |
| Michael van Gerwen | 5:6 | Warren Parry |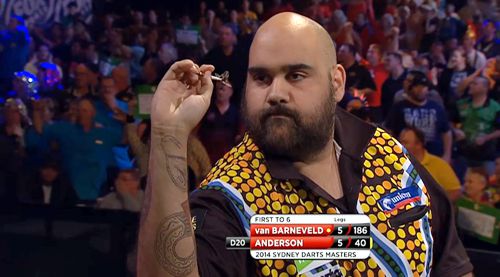 Viertelfinale, Best of 15 Legs
| | | |
| --- | --- | --- |
| Peter Wright | 6:8 | Stephen Bunting |
| Warren Parry | 2:8 | James Wade |
| Phil Taylor | 8:2 | Dave Chisnall |
| Simon Whitlock | 3:8 | Kyle Anderson |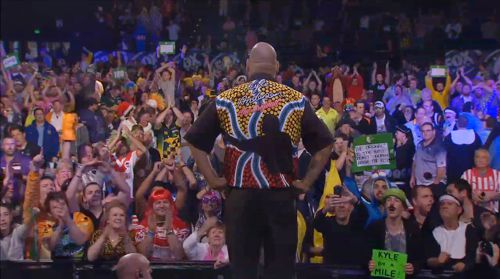 | | | |
| --- | --- | --- |
| James Wade | 4:10 | Stephen Bunting |
| Phil Taylor | 10:4 | Kyle Anderson |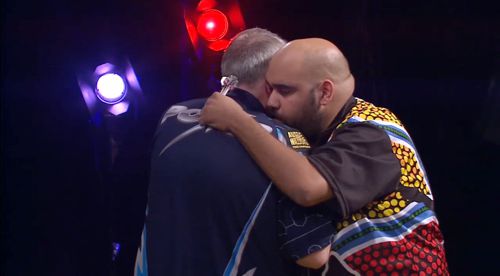 | | | |
| --- | --- | --- |
| Phil Taylor | 11:3 | Stephen Bunting |
Runde 1
Viertelfinale
Halbfinale
Finale
28.8.2014
29.8.2014
30.8.2014
30.8.2014
5
M. van Gerwen
6
Warren Parry
2
Warren Parry
6
James Wade
8
James Wade
1
Shane Tichowitsch
4
James Wade
6
Peter Wright
10
Stephen Bunting
0
Loz Ryder
6
Peter Wright
6
Stephen Bunting
8
Stephen Bunting
1
John Weber
3
Stephen Bunting
6
Phil Taylor
11
Phil Taylor
2
Paul Nicholson
8
Phil Taylor
6
Dave Chisnall
2
Dave Chisnall
0
Damon Heta
10
Phil Taylor
6
Simon Whitlock
4
Kyle Anderson
2
David Platt
3
Simon Whitlock
5
R. van Barneveld
8
Kyle Anderson
6
Kyle Anderson
World Series of Darts - Geschichte
Jahr
Turnier
Sieger
E
Finalist
2019
WS Finals
v
2019
NZ Masters
v
2019
Melbourne M.
v
2019
Brisbane M.
v
2019
German M.
v
2019
US Masters
v
2018
WS Finals
J.Wade
11:10
M.Smith
2018
Brisbane M.
R.Cross
11:06
M.v.Gerwen
2018
Melbourne M.
P.Wright
11:08
M.Smith
2018
Auckland M.
M.v.Gerwen
11:04
R.v.Barneveld
2018
Shanghai M.
M.Smith
08:02
R.Cross
2018
US Masters
G.Anderson
08:04
R.Cross
2018
German M.
M.Suljovic
08:02
D.V.d.Bergh
2017
WS Finals
M.v.Gerwen
11:06
G.Anderson
2017
German M.
P.Wright
11:04
P.Taylor
2017
Perth M.
G.Anderson
11:07
R.v.Barneveld
2017
Melbourne M.
P.Taylor
11:08
P.Wright
2017
Auckland M.
K.Anderson
11:10
C.Cadby
2017
US Masters
M.v.Gerwen
08:06
D.Gurney
2017
Shanghai M.
M.v.Gerwen
08:00
D.Chisnall
2017
Dubai M.
G.Anderson
11:07
M.v.Gerwen
2016
WS Finals
M.v.Gerwen
11:09
P.Wright
2016
Perth M.
M.v.Gerwen
11:04
D.Chisnall
2016
Sydney M.
P.Taylor
11:09
M.v.Gerwen
2016
Tokyo M.
G.Anderson
08:06
M.v.Gerwen
2016
Shanghai M.
M.v.Gerwen
08:03
J.Wade
2016
Auckland M.
G.Anderson
11:07
A.Lewis
2016
Dubai M.
G.Anderson
11:09
M.v.Gerwen
2015
WS Finals
M.v.Gerwen
11:10
P.Wright
2015
Auckland M.
A.Lewis
11:10
R.v.Barneveld
2015
Sydney M.
P.Taylor
11:03
A.Lewis
2015
Perth M.
P.Taylor
11:07
J.Wade
2015
Japan M.
P.Taylor
08:07
P.Wright
2015
Dubai M.
M.v.Gerwen
11:08
P.Taylor
2014
Sydney M.
P.Taylor
11:03
S.Bunting
2014
Perth M.
P.Taylor
11:09
M.v.Gerwen
2014
Singapore M.
M.v.Gerwen
11:08
S.Whitlock
2014
Dubai M.
M.v.Gerwen
11:07
P.Wright
2013
Sydney M.
P.Taylor
10:03
M.v.Gerwen
2013
Dubai M.
M.v.Gerwen
11:07
R.v.Barneveld
E=Endstand