German Darts Open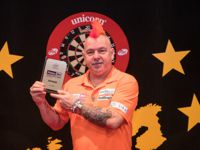 PDC European Tour 2018
Die German Darts Open sind das dritte von insgesamt 13 Turnieren der PDC European Tour.
Sie finden vom 13. bis 15. April 2018 in der Saarlandhalle, Saarbrücken statt.
Bei der vorigen Auflage besiegte Peter Wright im Finale des German Darts Open Benito van de Pas und gewann damit die Premiere dieses Turnieres. "Big Ben" warf deutlich höhere Scores als "Snakebite", doch der Schotte war stets in den entscheidenden Momenten zur Stelle. Im elften Leg stand van de Pas erneut auf 7 Punkten Rest, während Peter Wright mit 121 seine vermeintlich letzte Chance hatte. Triple 20, Single 11, Peter behielt die Nerven und versenkte den Dart in der Mitte der Scheibe. Game, Shot and the Match. Ian White und Jelle Klaasen unterlagen zuvor in der Vorschlussrunde deutlich.
Die besten 16 Dartspieler der PDC Pro Tour Rangliste sind automatisch für die Tour qualifiziert und gemäß ihrer Platzierung für die zweite Runde gesetzt, 32 weitere Teilnehmer werden über eine Kombination von Qualifikationsturnieren ermittelt.
Alle Spiele werden auf der Bühne ausgetragen. Die gesetzten Spieler greifen am Samstag, den 14. April in das Geschehen ein. Sonntags finden die dritte Runde, die Viertel- und Halbfinale sowie das Finale statt.
Alle Spiele bis zum Viertelfinale werden im Format Best of 11 Legs gespielt, das bedeutet, dass derjenige gewinnt, der zuerst sechs Legs verbuchen kann. Die Professional Darts Corporation gab 2018 für die Halbfinals und das Finale eine Verlängerung der Distanz bekannt. Die Vorschlussrunde wird nun Best of 13 Legs gespielt, das Endspiel im Format Best of 15 Legs.
European Tour 3
German Darts Open Spielplan
Simon Stevenson
1:6
Kirk Shepherd
Matthew Edgar
2:6
Steve West
Terry Jenkins
4:6
Cameron Menzies
Maik Kuivenhoven
6:1
Tobias Müller
Jan Dekker
2:6
Daniel Larsson
René Eidams
6:4
Ricky Williams
Richard North
4:6
Danny Noppert
Jose Justicia
6:4
Luke Woodhouse
▶ German Darts Open Spielberichte Tag 1
Dragutin Horvat
4:6
Alan Tabern
Luke Humphries
6:3
Ronny Huybrechts
Steve Lennon
6:0
Robert Thornton
Z. Lerchbacher
1:6
Max Hopp
D. Van den Bergh
6:3
William O'Connor
Paul Nicholson
6:2
Nathan Aspinall
James Wade
6:2
Tytus Kanik
Keegan Brown
0:6
Jermaine Wattimena
▶ German Darts Open Spielberichte Abend 1
Darren Webster
6:2
Steve West
Ian White
6:3
Cameron Menzies
Gerwyn Price
6:4
Kirk Shepherd
Jelle Klaasen
6:1
M. Kuivenhoven
Steve Beaton
2:6
Alan Tabern
Dave Chisnall
6:0
Jose Justicia
Michael Smith
6:4
Steve Lennon
Simon Whitlock*
0:6
Daniel Larsson
*Simon Whitlock musste kurzfristig krankheitsbedingt seine Teilnahme absagen.
▶ German Darts Open Spielberichte Tag 2
Mervyn King
6:3
James Wade
Daryl Gurney
6:1
René Eidams
B. van de Pas
6:5
Paul Nicholson
M. van Gerwen
6:1
Danny Noppert
Peter Wright
4:6
Max Hopp
Joe Cullen
6:5
Luke Humphries
M. Suljovic
6:2
J. Wattimena
Rob Cross
6:0
D. Van den Bergh
▶ German Darts Open Spielberichte Abend 2
M. van Gerwen
6:4
Alan Tabern
Dave Chisnall
0:6
Ian White
Daryl Gurney
5:6
Mervyn King
Michael Smith
6:3
Jelle Klaasen
Max Hopp
6:4
B. van de Pas
Joe Cullen
6:2
Daniel Larsson
M. Suljovic
5:6
Gerwyn Price
Rob Cross
6:4
Darren Webster
▶ German Darts Open Spielberichte Achtelfinals


Viertelfinale, Best of 11 Legs
M. van Gerwen
2:6
Ian White
Mervyn King
5:6
Michael Smith
Max Hopp
6:4
Joe Cullen
Gerwyn Price
1:6
Rob Cross
▶ German Darts Open Spielberichte Viertelfinals
Ian White
1:7
Michael Smith
Max Hopp
7:6
Rob Cross
| | | |
| --- | --- | --- |
| Max Hopp | 8:7 | Michael Smith |
▶ German Darts Open Spielberichte Final-Session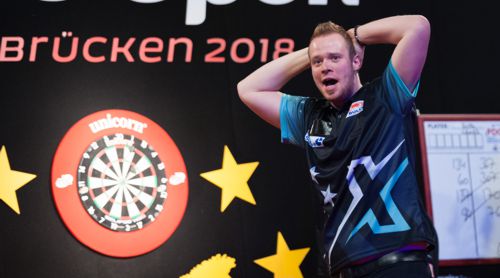 2. Runde
Achtelfinale
Viertelfinale
Halbfinale
Best of 11 Legs
Best of 11 Legs
Best of 11 Legs
Best of 11 Legs
6
M.v.Gerwen
1
D.Noppert
6
M.v.Gerwen
2
S.Beaton
4
A.Tabern
6
A.Tabern
2
M.v.Gerwen
6
D.Chisnall
6
I.White
0
J.Justicia
0
D.Chisnall
6
I.White
6
I.White
3
C.Menzies
1
I.White
6
D.Gurney
7
M.Smith
1
R.Eidams
5
D.Gurney
6
M.King
6
M.King
3
J.Wade
5
M.King
6
M.Smith
6
M.Smith
4
S.Lennon
6
M.Smith
6
J.Klaasen
3
J.Klaasen
1
M.Kuivenhoven
6
R.Cross
0
D.V.d.Bergh
6
R.Cross
6
D.Webster
4
D.Webster
2
S.West
6
R.Cross
6
M.Suljovic
1
G.Price
2
J.Wattimena
5
M.Suljovic
6
G.Price
6
G.Price
4
K.Shepherd
6
R.Cross
6
J.Cullen
7
M.Hopp
5
L.Humphries
6
J.Cullen
0
S.Whitlock
2
D.Larsson
6
D.Larsson
4
J.Cullen
4
P.Wright
6
M.Hopp
6
M.Hopp
6
M.Hopp
6
B.v.d.Pas
4
B.v.d.Pas
5
P.Nicholson
Finale
Best of 11 Legs
Max Hopp
8:7
Michael Smith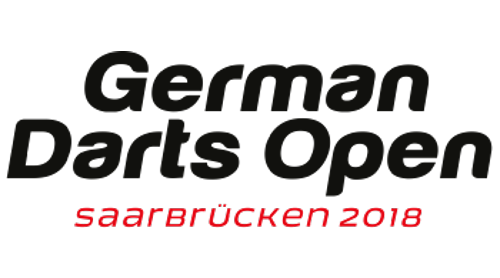 Preisgelder der German Darts Open
| | |
| --- | --- |
| Sieger | 25.000 £ |
| Finalist | 10.000 £ |
| Halbfinale | 6.000 £ |
| Viertelfinale | 4.000 £ |
| Letzte 16 | 3.000 £ |
| Letzte 32 | 2.000 £ |
| Letzte 64 | 1.000 £ |
| Gesamt | 135.000 £ |
▶ German Darts Open 2023 · 2022 · 2019 · 2018 · 2017
▶ German Darts Open Statistiken (PDF, 934 kB)
▶ European Tour 2023 · 2022 · 2021 · 2020 · 2019 · 2018 · 2017 · 2016 · 2015 · 2014 · 2013 · 2012