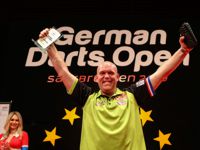 German Darts Open 2022
PDC European Tour 2022
Die German Darts Open waren das elfte von 13 Turnieren der PDC European Tour 2022. Sie fanden vom 9. bis 11. September 2022 in der Sparkassen Arena, Jena, statt.
Mit den German Darts Open 2019 ging auch das vierte Turnier der European Tour an Michael van Gerwen. Diesmal war Ian White der Finalgegner und 8:3 lautete das Resultat. Auf dem Weg in das Endspiel überstand der Weltranglistenerste einige Matchdarts. Sowohl gegen Dave Chisnall im Halbfinale, als auch gegen Nathan Aspinall im Viertelfinale und seinen Landsmann Raymond van Barneveld im Achtelfinale setzte sich "Mighty Mike" erst im alles entscheidenden letzten Leg durch. Steve Beaton gelang in der ersten Runde des Wettbewerbs noch das perfekte Spiel vor einer Hand voll Zuschauer in Saarbrücken.
Die besten 16 Dartspieler der PDC Pro Tour-Rangliste waren automatisch für den Wettbewerb qualifiziert und gemäß ihrer Platzierung für die zweite Runde gesetzt. 32 weitere Teilnehmer wurden über eine Kombination von Qualifikationsturnieren ermittelt.
Alle Spiele wurden auf der Bühne ausgetragen. Die gesetzten Spieler griffen am Samstag, den 10. September in das Geschehen ein. Sonntags fanden die dritte Runde, die Viertel- und Halbfinale sowie das Finale statt.
Alle Spiele bis zum Viertelfinale wurden im Format Best of 11 Legs gespielt, das bedeutet, dass derjenige gewann, der zuerst sechs Legs verbuchen konnte. Die Professional Darts Corporation gab 2018 für die Halbfinals und das Finale eine Verlängerung der Distanz bekannt. Die Vorschlussrunde wurde nun Best of 13 Legs gespielt, das Endspiel im Format Best of 15 Legs.
European Tour 11
German Darts Open Spielplan
David Evans
6:3
Martijn Kleermaker
Bradley Brooks
6:3
Scott Williams
Luke Woodhouse
6:5
Keane Barry
Daniel Larsson
6:5
Jamie Hughes
Jim Williams
6:5
Karel Sedlacek
Dragutin Horvat
6:4
Jeff Smith
Danny van Trijp
6:0
John Henderson
Geert Nentjes
6:0
Josh Rock
Daryl Gurney
6:3
Connor Scutt
Alan Soutar
6:3
Lukas Wenig
R. van Barneveld
6:0
Ian White
Martin Lukeman
6:1
Gabriel Clemens
Luke Woodhouse
6:3
Ryan Searle
José de Sousa
6:4
Dragutin Horvat
Krzysztof Ratajski
6:5
Geert Nentjes
D. Van den Bergh
6:2
David Evans
Ross Smith
6:5
Danny Noppert
Dave Chisnall
6:2
Bradley Brooks
Steve Beaton
6:4
Nathan Aspinall
Daryl Gurney
6:3
D. van Duijvenbode
Damon Heta
6:2
Alan Soutar
Luke Humphries
6:3
Daniel Larsson
Joe Cullen
6:5
Joe Murnan
Peter Wright
6:3
R. van Barneveld
Gerwyn Price
6:4
Lewy Williams
Martin Schindler
6:3
Danny van Trijp
Jonny Clayton
6:4
Jim Williams
Rob Cross
6:1
Martin Lukeman
Luke Humphries
6:3
Dave Chisnall
Joe Cullen
6:5
Daryl Gurney
Peter Wright
6:3
Jonny Clayton
Ross Smith
6:3
Damon Heta
Gerwyn Price
6:1
Martin Schindler
José de Sousa
6:3
Steve Beaton
Krzysztof Ratajski
6:5
Rob Cross
D. Van den Bergh
6:5
Luke Woodhouse


Viertelfinale, Best of 11 Legs
Joe Cullen
6:5
Luke Humphries
Peter Wright
6:2
Ross Smith
José de Sousa
6:5
Gerwyn Price
D. Van den Bergh
6:3
Krzysztof Ratajski
Peter Wright
7:4
Joe Cullen
D. Van den Bergh
7:3
José de Sousa
| | | |
| --- | --- | --- |
| Peter Wright | 8:6 | D. Van den Bergh |
2. Runde
Achtelfinale
Viertelfinale
Halbfinale
Best of 11 Legs
Best of 11 Legs
Best of 11 Legs
Best of 13 Legs
6
L.Humphries
3
D.Larsson
6
L.Humphries
6
D.Chisnall
3
D.Chisnall
2
B.Brooks
5
L.Humphries
3
D.v.Duijvenbode
6
J.Cullen
6
D.Gurney
5
D.Gurney
6
J.Cullen
6
J.Cullen
5
J.Murnan
4
J.Cullen
6
P.Wright
7
P.Wright
3
R.v.Barneveld
6
P.Wright
6
J.Clayton
3
J.Clayton
4
J.Williams
6
P.Wright
6
D.Heta
2
R.Smith
2
A.Soutar
3
D.Heta
5
D.Noppert
6
R.Smith
6
R.Smith
6
G.Price
4
L.Williams
6
G.Price
6
M.Schindler
1
M.Schindler
3
D.v.Trijp
5
G.Price
4
N.Aspinall
6
J.d.Sousa
6
S.Beaton
3
S.Beaton
6
J.d.Sousa
6
J.d.Sousa
4
D.Horvat
3
J.d.Sousa
6
R.Cross
7
D.V.d.Bergh
1
M.Lukeman
5
R.Cross
6
K.Ratajski
6
K.Ratajski
5
G.Nentjes
3
K.Ratajski
3
R.Searle
6
D.V.d.Bergh
6
L.Woodhouse
5
L.Woodhouse
6
D.V.d.Bergh
6
D.V.d.Bergh
2
D.Evans
Finale
Best of 15 Legs
Peter Wright
8:6
D. Van den Bergh
Preisgelder der German Darts Open
| | |
| --- | --- |
| Sieger | 25.000 £ |
| Finalist | 10.000 £ |
| Halbfinale | 6.500 £ |
| Viertelfinale | 5.000 £ |
| Letzte 16 | 3.000 £ |
| Letzte 32 | 2.000 £ |
| Letzte 64 | 1.000 £ |
| Gesamt | 140.000 £ |
German Darts Open Teilnehmer
PDC Top 16 Spieler
01. Michael van Gerwen
02. Luke Humphries
03. Gerwyn Price
04. Michael Smith
05. Rob Cross
06. Peter Wright
07. Damon Heta
08. Ryan Searle
09. Nathan Aspinall
10. Dirk van Duijvenbode
11. Joe Cullen
12. José de Sousa
13. Dimitri Van den Bergh
14. Danny Noppert
15. Jonny Clayton
16. Krzysztof Ratajski
Associate Member Qualifikanten
Scott Williams
Danny van Trijp
Deutsche Qualifikanten
Lukas Wenig
Dragutin Horvat
Qualifikanten mit Tourkarte
Dave Chisnall
Ian White
Lewy Williams
Darren Webster
Daryl Gurney
Keane Barry
Jamie Hughes
Luke Woodhouse
Martin Lukeman
Raymond van Barneveld
Jeff Smith
Bradley Brooks
Geert Nentjes
Steve Beaton
Joe Murnan
Connor Scutt
David Evans
Jim Williams
Martijn Kleermaker
John Henderson
Adrian Lewis
Josh Rock
Ross Smith
Alan Soutar
Nordic & Baltic Qualifikant
Daniel Larsson
▶ German Darts Open 2023 · 2022 · 2019 · 2018 · 2017
▶ German Darts Open Statistiken (PDF, 934 kB)
▶ European Tour 2023 · 2022 · 2021 · 2020 · 2019 · 2018 · 2017 · 2016 · 2015 · 2014 · 2013 · 2012