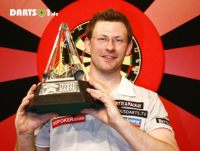 2010 Whyte & Mackay Premier League Darts
Die Premier League of Darts wird seit 2005 ausgetragen. Die ersten vier Turniere konnte der 15-fache Weltmeister, Phil Taylor, für sich entscheiden, ehe dies 2009 erstmals James Wade gelang. Mervyn King warf Taylor im Halbfinale aus dem Turnier, konnte aber im Finale diese Leistung nicht aufrecht erhalten und unterlag dort James Wade.
Es wird, wie im Vorjahr, 14 Spieltage und einen Finaltag, die sogenannten Play offs, an unterschiedlichen Spielorten in ganz England geben. Es wird zweimal jeder gegen jeden gespielt werden, ehe die vier Erstplatzierten zunächst die Halbfinale und schließlich das Finale austragen werden. Das Turnier ist aufgrund des hohen Preisgeldes, 2010 werden 400.000 £ ausgespielt, für die Spieler sehr interessant.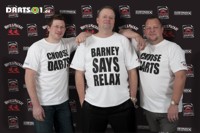 Durch die Rangliste der PDC, den Order of Merit, sind die ersten sechs Spieler automatisch qualifiziert. Nach der Dart WM 2010 sind dies: Phil Taylor, Raymond van Barneveld, James Wade, Terry Jenkins, Mervyn King und Ronnie Baxter. Darüber hinaus werden über sogenannte Wildcards zwei weitere Spieler für die Premier League of Darts nominiert. Durch seine tolle Leistung und den Finaleinzug ging eine Wildcard an Simon Whitlock, der dadurch erstmals an der Premier League teilnehmen wird. Die zweite Wildcard wurde vom englischen Fernsehsender Sky Sports an Adrian Lewis vergeben, der kürzlich von der PDC als bester junger Spieler ausgezeichnet wurde. Er hatte bereits 2007 und 2008 an der Premier League teilgenommen.
Tabelle der Premier League Darts 2010
Spieler
S
G
U
V
L
P
Phil Taylor
14
12
2
0
+58
26
Simon Whitlock
14
7
2
5
+9
16
James Wade
14
5
4
5
-1
14
Mervyn King
14
5
3
6
-3
13
Ronnie Baxter
14
4
5
5
-7
13
R. v. Barneveld
14
5
1
8
-15
11
Adrian Lewis
14
4
3
7
-16
11
Terry Jenkins
14
3
2
9
-25
8
S = Spiele, G = Gewonnen, U = Unentschieden, V = Verloren, L = Legs, P = Punkte
Die einzelnen Termine und Spielpaarungen in der Übersicht:
1. Woche - 11. Februar 2010
The O2, London
| | | |
| --- | --- | --- |
| Ronnie Baxter | 7:7 | Terry Jenkins |
| Mervyn King | 8:5 | Adrian Lewis |
| Raymond van Barneveld | 8:5 | James Wade |
| Simon Whitlock | 3:8 | Phil Taylor |
Premier League of Darts 2010 - Spielberichte Tag 1
2. Woche - 18. Februar 2010
BIC, Bournemouth
| | | |
| --- | --- | --- |
| Adrian Lewis | 8:3 | Raymond van Barneveld |
| Terry Jenkins | 7:7 | Simon Whitlock |
| Phil Taylor | 8:6 | Ronnie Baxter |
| James Wade | 4:8 | Mervyn King |
3. Woche - 25. Februar 2010
Odyssey Arena, Belfast
| | | |
| --- | --- | --- |
| Mervyn King | 6:8 | Ronnie Baxter |
| Adrian Lewis | 6:8 | Terry Jenkins |
| Simon Whitlock | 8:5 | Raymond van Barneveld |
| Phil Taylor | 8:2 | James Wade |
Premier League of Darts 2010 - Spielberichte Tag 3
4. Woche - 4. März 2010
Westpoint Arena, Exeter
| | | |
| --- | --- | --- |
| James Wade | 7:7 | Adrian Lewis |
| Ronnie Baxter | 8:6 | Simon Whitlock |
| Mervyn King | 8:5 | Terry Jenkins |
| Raymond van Barneveld | 2:8 | Phil Taylor |
Premier League of Darts 2010 - Spielberichte Tag 4
5. Woche - 11. März 2010
M.E.N. Arena
| | | |
| --- | --- | --- |
| James Wade | 7:7 | Ronnie Baxter |
| Phil Taylor | 7:7 | Mervyn King |
| Terry Jenkins | 4:8 | Raymond van Barneveld |
| Adrian Lewis | 4:8 | Simon Whitlock |
Premier League of Darts 2010 - Spielberichte Tag 5
6. Woche - 18. März 2010
Brighton Centre
| | | |
| --- | --- | --- |
| Phil Taylor | 8:3 | Terry Jenkins |
| Raymond van Barneveld | 7:7 | Mervyn King |
| Ronnie Baxter | 6:8 | Adrian Lewis |
| Simon Whitlock | 4:8 | James Wade |
Premier League of Darts 2010 - Spielberichte Tag 6
7. Woche - 25. März 2010
NIA, Birmingham
| | | |
| --- | --- | --- |
| Mervyn King | 6:8 | Simon Whitlock |
| James Wade | 8:5 | Terry Jenkins |
| Raymond van Barneveld | 4:8 | Ronnie Baxter |
| Adrian Lewis | 4:8 | Phil Taylor |
Premier League of Darts 2010 - Spielberichte Tag 7
Premier League of Darts 2010 - Statistiken nach Tag 7
8. Woche - 1. April 2010
CIA, Cardiff
| | | |
| --- | --- | --- |
| Terry Jenkins | 2:8 | Mervyn King |
| Simon Whitlock | 5:8 | Ronnie Baxter |
| Adrian Lewis | 8:5 | James Wade |
| Phil Taylor | 8:2 | Raymond van Barneveld |
9. Woche - 8. April 2010
SECC, Glasgow
| | | |
| --- | --- | --- |
| Raymond van Barneveld | 6:8 | Adrian Lewis |
| Simon Whitlock | 8:3 | Terry Jenkins |
| Ronnie Baxter | 4:8 | Phil Taylor |
| Mervyn King | 4:8 | James Wade |
Premier League of Darts 2010 - Spielberichte Tag 9
10. Woche - 15. April 2010
Sheffield Arena
| | | |
| --- | --- | --- |
| Terry Jenkins | 8:5 | Adrian Lewis |
| Ronnie Baxter | 7:7 | Mervyn King |
| James Wade | 7:7 | Phil Taylor |
| Raymond van Barneveld | 6:8 | Simon Whitlock |
Premier League of Darts 2010 - Spielberichte Tag 10
11. Woche - 22. April 2010
Liverpool Echo Arena
| | | |
| --- | --- | --- |
| Terry Jenkins | 8:4 | Ronnie Baxter |
| James Wade | 8:3 | Raymond van Barneveld |
| Adrian Lewis | 3:8 | Mervyn King |
| Phil Taylor | 8:5 | Simon Whitlock |
Premier League of Darts 2010 - Spielberichte Tag 11
12. Woche - 29. April 2010
AECC, Aberdeen
| | | |
| --- | --- | --- |
| Ronnie Baxter | 7:7 | James Wade |
| Mervyn King | 1:8 | Phil Taylor |
| Raymond van Barneveld | 8:6 | Terry Jenkins |
| Simon Whitlock | 7:7 | Adrian Lewis |
Premier League of Darts 2010 - Spielberichte Tag 12
13. Woche - 6. Mai 2010
Metro Radio Arena, Newcastle
| | | |
| --- | --- | --- |
| Adrian Lewis | 7:7 | Ronnie Baxter |
| Mervyn King | 5:8 | Raymond van Barneveld |
| James Wade | 4:8 | Simon Whitlock |
| Terry Jenkins | 5:8 | Phil Taylor |
Premier League of Darts 2010 - Spielberichte Tag 13
14. Woche - 13. Mai 2010
Trent FM Arena, Nottingham
| | | |
| --- | --- | --- |
| Terry Jenkins | 5:8 | James Wade |
| Ronnie Baxter | 2:8 | Raymond van Barneveld |
| Simon Whitlock | 8:2 | Mervyn King |
| Phil Taylor | 8:1 | Adrian Lewis |
Premier League of Darts 2010 - Spielberichte Tag 14
Play offs, Halbfinale - 23. Mai 2010
Wembley Arena, London, Best of 15 Legs
| | | |
| --- | --- | --- |
| Simon Whitlock | 6:8 | James Wade |
| Phil Taylor | 8:1 | Mervyn King |
Play offs, Spiel um Platz 3 - 23. Mai 2010
Wembley Arena, London, Best of 15 Legs
| | | |
| --- | --- | --- |
| Mervyn King | 8:7 | Simon Whitlock |
Play offs, Finale - 23. Mai 2010, direkt anschließend an die Halbfinale
Wembley Arena, London, Best of 25 Legs
| | | |
| --- | --- | --- |
| Phil Taylor | 10:8 | James Wade |
Spielorte und Tickets der Premier League Darts 2010
11.02.
The O2, London
0844 856 0202
www.theo2.co.uk
18.02.
BIC, Bournemouth
0844 576 3000
www.bic.co.uk
25.02.
Odyssey Arena, Belfast
02890 739 074
0844 277 4455 (Ticketmaster)
www.odysseyarena.com
04.03.
Westpoint Arena, Exeter
08444 99 99 55
www.ticketzone.co.uk
11.03.
M.E.N. Arena
0844 847 8000
www.men-arena.com
18.03.
Brighton Centre
0844 847 1515
www.brightoncentre.co.uk
25.03
NIA, Birmingham
0844 338 8000
www.theticketfactory.com
01.04.
CIA, Cardiff
02920 22 44 88
www.livenation.co.uk
08.04
SECC, Glasgow
0844 395 4000
www.ticketSOUP.com
15.04.
Sheffield Arena
0114 256 5656
www.sheffieldarena.co.uk
22.04
Liverpool Echo Arena
0844 8000 400
www.echoarena.com
29.04.
AECC, Aberdeen
08444 77 9000
www.aecc.co.uk
06.05.
Metro Radio Arena, Newcastle
0844 493 6666
www.metroradioarena.co.uk
13.05.
Trent FM Arena, Nottingham
08444 124 624
www.trentfmarenanottingham.com
Play-Offs
23.05.
Wembley Arena
0844 815 0 815
www.wembleyarena.co.uk
Premier League Darts - Geschichte
Jahr
Sieger
E
Finalist
Preisgeld
Sponsor
2023
v
1.000.000
Cazoo
2022
M.v.Gerwen
11:10
J.Cullen
1.000.000
Cazoo
2021
J.Clayton
11:5
J.d.Sousa
855.000
Unibet
2020
G.Durrant
11:8
N.Aspinall
825.000
Unibet
2019
M.v.Gerwen
11:5
R.Cross
825.000
Unibet
2018
M.v.Gerwen
11:4
M.Smith
825.000
Unibet
2017
M.v.Gerwen
11:10
P.Wright
825.000
Betway
2016
M.v.Gerwen
11:3
P.Taylor
725.000
Betway
2015
G.Anderson
11:7
M.v.Gerwen
700.000
Betway
2014
R.v.Barneveld
10:6
M.v.Gerwen
550.000
Betway
2013
M.v.Gerwen
10:8
P.Taylor
520.000
McCoy's
2012
P.Taylor
10:7
S.Whitlock
450.000
McCoy's
2011
G.Anderson
10:4
A.Lewis
410.000
888.com
2010
P.Taylor
10:8
J.Wade
410.000
Whyte&MacKay
2009
J.Wade
13:8
M.King
405.000
Whyte&MacKay
2008
P.Taylor
16:8
J.Wade
340.000
Whyte&MacKay
2007
P.Taylor
16:6
T.Jenkins
265.000
Holsten
2006
P.Taylor
16:6
R.Scholten
167.500
Holsten
2005
P.Taylor
16:4
C.Lloyd
151.000
888.com
E=Endstand