UK Open 2010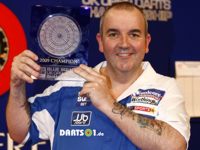 Insgesamt 96 Dart Profis haben sich für das Endturnier der UK Open, welches vom 3. bis 6. Juni im Reebok Stadium Bolton stattfinden wird, qualifiziert.
Acht Qualifikationsturniere, jeweils mit einem Preisgeld von 31.600 £ dotiert, fanden in den letzten drei Monaten statt, um den Profis die Chance zu geben, sich einen Startplatz beim Endturnier zu verdienen.
Die besten 96 Spieler des UK Open Order of Merit, die an mindestens drei Qualifikationsturnieren teilgenommen haben, werden nun bei diesem, vom englischen Sky Fernsehen übertragenen Turnier, starten. Mit Jyhan Artut ist erstmals ein deutscher Spieler mit dabei.
Mark Walsh führt die Tabelle nach den acht Qualifikationsturnieren mit 15.200 £ gewonnenem Preisgeld an, wovon zwei Mal 6.000 £ durch Turniersiege zustande kamen, während Titelverteidiger Phil Taylor mit 15.000 £ knapp dahinter liegt, aber nur an drei Qualifikationsturnieren, davon zwei Siege und eine Finalteilnahme, mitgespielt hat.
Die besten 32 Spieler werden am Freitag, dem 4. Juni in der dritten Runde der UK Open, die auch als "FA Cup of Darts" bezeichnet wird, einsteigen.
Das besondere an diesem Turnier ist, dass es ohne Setzliste gespielt wird, das heißt, dass die Top Spieler zu jeder Zeit aufeinander treffen können.
Die Vorrunde sowie die erste Runde wird mit den Plätzen 65 bis 96 des UK Open Order of Merit, den 32 Spielern, die sich über die Rileys Amateur Turniere qualifizieren konnten und den zehn Vertretern der BDO Countys abgehalten werden.
In der zweiten Runde kommen neben den 32 Siegern der ersten Runde die Plätze 33 bis 64 des UK Open Order of Merit hinzu, unter anderem mit dem UK Open Sieger von 2004, Roland Scholten, dazu Wayne Mardle, Peter Manley und Players Championship Sieger Paul Nicholson.
Auslosung und Ergebnisse UK Open Vorrunde

Andy Hutchings
3:6
Darren Webster
Kevin Lowe
4:6
Jason Clark
Kevin Dowling
1:6
Jyhan Artut
Dean Stewart
2:6
Dylan Duo
Prakash Jiwa
6:4
John Lakeman
Andy Murray
1:6
Scott Rand
Par Riihonen
5:6
Steve Farmer
Reece Robinson
6:0
Hugh Ringland
Ashley Whisker
2:6
Gary Mawson
Peter Hudson
6:1
Paul Neate
Auslosung und Ergebnisse UK Open 1. Runde

Louis Blundell
6:5
Richie Burnett
Joe Cullen
6:1
Darren Latham
Steve Hine
6:5
Ian Gleeson
Willie O Connor
6:0
Stuart Monaghan
Matt Padgett
6:3
John Quantock
Paul Whitworth
6:5
Chris Loudon
Dave Smith
6:3
Pete Hudson
Steve Farmer
Bye
Dean Edlin
Tony Hutchinson
Bye
Darren Sullivan
Melv Johnston
6:3
Sam Allen
Joe Palmer
6:1
Bradley Williams
Jason Clark
6:4
Ryan Murray
Robbie Newland
6:5
John Robertson
Paul Gibbs
6:3
Mark Wilson
Darren Webster
6:1
Dean Harris
Scott Rand
6:3
Jyhan Artut
Gary Eastwood
6:5
David Martin
Henry O Neill
6:2
Michael Hammond
Mike Nott
6:2
Dave Honey
Jay Foreman
6:1
Barrie Knight
Jamie Green
6:1
Alex Harrison
Ricky Evans
6:4
Noel Grant
Paul Warwick
6:3
Henry Murphy
Simon Cunningham
6:4
Prakash Jiwa
Mark Harris
6:2
Matt Draper
Anton Liscsey
6:3
Paul Rowley
Martyn Turner
6:4
Nicky Bache
Dylan Duo
6:4
Gary Mawson
Anthony Broughton
6:3
Mark Stephenson
Peter Fisher
6:2
Barrie Webb
John Bowles
6:4
Simon Jones
Reece Robinson
6:4
Danny Pinhorne
Auslosung und Ergebnisse UK Open 2. Runde

Kirk Shepherd
6:4
Adrian Gray
Wayne Mardle
6:3
Mick McGowan
Aaron Monk
6:3
Nick Fulwell
Paul Nicholson
6:4
Dave Smith
Alex Roy
6:3
Mark Lawrence
Kevin McDine
6:2
Jamie Green
Steve Beaton
6:2
Ricky Evans
Willie O Connor
6:3
Mark Frost
Chris Thompson
6:4
Justin Pipe
Dennis Smith
6:1
Robbie Newland
Dylan Duo
6:4
Gary Eastwood
Andy Smith
6:5
Darren Webster
Colin Monk
6:4
Darren Johnson
Mark Cox
6:5
Henry O Neill
Reece Robinson
6:1
Louis Blundell
Matt Padgett
6:5
Jason Clark
Michael Barnard
6:3
John Bowles
Mark Harris
6:4
Martyn Turner
Paul Warwick
6:3
Steve Farmer
Robert Thornton
6:2
Paul Gibbs
Michael Smith
6:3
Peter Manley
Steve Hine
6:1
Melv Johnston
Anthony Broughton
6:4
Scott Rand
Peter Fisher
Bye
Chris Mason
Steve Evans
6:1
Tony Hutchinson
Joe Cullen
6:3
Mike Nott
Roland Scholten
6:3
Joe Palmer
Tony Ayres
6:4
Paul Whitworth
Barrie Bates
6:5
Anton Liscsey
Steve Hardy
6:4
Jay Foreman
Simon Cunningham
6:5
Stuart Dutton
Auslosung und Ergebnisse UK Open 3. Runde

Mervyn King
9:5
Joe Cullen
Gary Anderson
9:4
Michael van Gerwen
Phil Taylor
9:2
Wayne Mardle
Simon Whitlock
9:5
Reece Robinson
Mark Walsh
9:6
John Part
Paul Nicholson
9:6
Kirk Shepherd
Wes Newton
9:1
Terry Jenkins
James Wade
9:7
Steve Hine
Steve Maish
9:8
Dennis Priestley
Andy Smith
9:5
Colin Lloyd
Wayne Atwood
9:7
Vincent van der Voort
Alex Roy
9:8
Barrie Bates
Tony Eccles
9:6
Mark Webster
Kevin Painter
9:5
Mark Harris
Colin Osborne
9:3
Dylan Duo
Roland Scholten
9:3
Simon Cunningham
Denis Ovens
9:5
Aaron Monk
Michael Smith
9:3
Matt Clark
Alan Tabern
9:8
Steve Hardy
Andy Hamilton
9:1
Brendan Dolan
Robert Thornton
9:8
Mark Cox
Jamie Caven
9:3
Steve Beaton
Nigel Heydon
9:7
Mark Dudbridge
Kevin McDine
9:0
Anthony Broughton
Willie O Connor
9:7
Peter Wright
Adrian Lewis
9:3
Michael Barnard
Paul Warwick
9:3
Co Stompe
Ronnie Baxter
9:4
Chris Thompson
Tony Ayres
9:3
Peter Fisher
Jelle Klaasen
9:6
Steve Evans
Dennis Smith
9:5
Colin Monk
Wayne Jones
9:2
Matt Padgett
Auslosung und Ergebnisse UK Open Letzte 32

Simon Whitlock
9:4
Robert Thornton
James Wade
9:3
Willie O Connor
Phil Taylor
9:0
Kevin Painter
Gary Anderson
9:7
Paul Nicholson
Kevin McDine
9:8
Paul Warwick
Andy Hamilton
9:6
Alex Roy
Adrian Lewis
9:5
Colin Osborne
Alan Tabern
9:5
Roland Scholten
Denis Ovens
9:7
Dennis Smith
Ronnie Baxter
9:4
Tony Eccles
Andy Smith
9:5
Jamie Caven
Wes Newton
9:1
Steve Maish
Tony Ayres
9:7
Mark Walsh
Wayne Jones
9:6
Jelle Klaasen
Mervyn King
9:6
Michael Smith
Nigel Heydon
9:6
Wayne Atwood
Auslosung und Ergebnisse UK Open Letzte 16

Andy Hamilton
9:7
Ronnie Baxter
James Wade
9:2
Kevin McDine
Phil Taylor
9:6
Simon Whitlock
Gary Anderson
9:8
Mervyn King
Adrian Lewis
9:4
Wayne Jones
Denis Ovens
9:1
Andy Smith
Tony Ayres
9:5
Alan Tabern
Wes Newton
9:5
Nigel Heydon
Auslosung und Ergebnisse UK Open Viertelfinale

Tony Ayres
10:9
James Wade
Gary Anderson
10:6
Andy Hamilton
Denis Ovens
10:3
Wes Newton
Phil Taylor
10:2
Adrian Lewis
Auslosung und Ergebnisse UK Open Halbfinale

Gary Anderson
10:3
Tony Ayres
Phil Taylor
10:5
Denis Ovens
Auslosung und Ergebnisse UK Open Finale

Phil Taylor
11:5
Gary Anderson

Abschlusstabelle nach acht UK Open Qualifikationsturnieren

Platz
Name
Teilnahmen
Preisgeld
01
WALSH,Mark
8
£15,200
02
TAYLOR,Phil
3
£15,000
03
ANDERSON,Gary
8
£13,500
04
WADE,James
7
£10,900
05
LLOYD,Colin
8
£7,700
06
KING,Mervyn
6
£7,200
07
CAVEN,Jamie
8
£6,900
08
NEWTON,Wesley
8
£6,500
09
PART,John
8
£6,300
10
OSBORNE,Colin
7
£5,900
11
HAMILTON, Andy
8
£5,100
12
WHITLOCK,Simon
8
£4,900
13
VOORT,Vincent van der
8
£4,700
14
JONES,Wayne
8
£4,600
15
WEBSTER,Mark
8
£4,500
16
WRIGHT,Peter
8
£4,400
17
KLAASEN,Jelle
8
£4,400
18
PAINTER, Kevin
8
£3,900
19
STOMPE Co
7
£3,600
20
LEWIS,Adrian
8
£3,400
21
GERWEN,Michael van
8
£3,200
22
DUDBRIDGE,Mark
8
£3,200
23
TABERN,Alan
8
£3,000
24
MAISH,Steve
8
£2,900
25
DOLAN,Brendan
8
£2,900
26
JENKINS,Terry
7
£2,900
27
PRIESTLEY,Dennis
6
£2,800
28
CLARK,Matt
8
£2,800
29
BAXTER,Ronnie
8
£2,700
30
OVENS,Denis
8
£2,500
31
ECCLES,Tony
8
£2,300
32
HEYDON,Nigel
8
£2,300
33
SMITH,Andy
8
£2,300
34
NICHOLSON,Paul
8
£2,300
35
THOMPSON, Chris
8
£2,200
36
FROST.Mark
8
£2,200
37
PIPE,Justin
8
£2,200
38
LAWRENCE,Mark
8
£2,200
39
FULLWELL,Nick
8
£2,000
40
MONK,Colin
8
£2,000
41
BEATON,Steve
8
£1,900
42
BATES,Barrie
8
£1,900
43
JOHNSON,Darren
8
£1,900
44
SMITH,Dennis
8
£1,800
45
GRAY,Adrian
8
£1,700
46
THORNTON,Robert
8
£1,600
47
MASON,Chris
8
£1,600
48
SCHOLTEN,Roland
6
£1,600
49
EVANS,Steve
8
£1,500
50
BROWN,Steve
8
£1,400
51
COX,Mark
8
£1,400
52
BARNARD,Michael
8
£1,400
53
MARDLE,Wayne
7
£1,400
54
McGOWAN,Mick
8
£1,300
55
SHEPHERD,Kirk
8
£1,300
56
MONK,Arron
8
£1,300
57
SMITH,Michael
5
£1,200
58
McDINE,Kevin
7
£1,200
59
HARDY,Stephen
8
£1,100
60
MANLEY,Peter
5
£1,100
61
ATWOOD,Wayne
6
£1,000
62
AYRES,Tony
7
£1,000
63
ROY,Alex
8
£1,000
64
DUTTON,Stuart
6
£1,000
65
FARMER,Steve
7
£900
66
MAWSON,Gary
6
£900
67
DOWLING,Kevin
8
£800
68
HINE,Steve
8
£800
69
HUDSON,Peter
8
£800
70
SMITH,Dave
7
£700
71
CUNNINGHAM,Simon
4
£700
72
QUANTOCK,John
6
£700
73
ARTUT,Jyhan
3
£700
74
CULLEN,Joe
7
£700
75
STEPHENSON,Mark
8
£600
76
PADGETT,Matt
8
£600
77
HONEY,Dave
8
£600
78
EASTWOOD,Gary
6
£600
79
WEBSTER,Darren
8
£600
80
BLUNDELL,Louis
8
£600
81
DUO,Dylan
5
£600
82
CLARK,Jason
6
£500
83
O'CONNOR,William
4
£500
84
RAND,Scott
3
£500
85
RIIHONEN,Par
8
£500
86
ALLEN,Sam
8
£500
87
LISCSEY,Anton
6
£500
88
PINHORNE,Danny
8
£400
89
ROWLEY,Paul
8
£400
90
TURNER,Martyn
7
£400
91
LATHAM,Darren
7
£400
92
NEWLAND,Robbie
8
£400
93
BURNETT,Richie
8
£400
94
DRAPER,Matt
7
£400
95
LOUDON,Chris
8
£400
96
HUTCHINGS,Andy
8
£400
Die 32 Rileys Amateur Turnier Qualifikanten

Melvyn Johnston
Aberdeen
Paul Gibbs
Bournemouth
Tony Broughton
Bournemouth
Dean Edlin
Brighton
Michael Hammond
Brighton
Darren Sullivan
Burton
Ricky Evans
Burton
Alex Harrison
Cardiff
David Martin
Cardiff
John Bowles
Chester
Noel Grant
Coventry
Henry Murphy
Croydon
Paul Neate
Croydon
John Robertson
Edinburgh
Ryan Murray
Edinburgh
John Lakeman
Exeter
Barrie Knight
Gillingham
Mark Wilson
Hull
Reece Robinson
Hull
Bradley Williams
Liverpool
Jamie Green
Liverpool
Ashley Whisker
London
Paul Warwick
London
Paul Whitworth
Manchester
Stuart Monaghan
Manchester
Barrie Webb
Norwich
Joe Palmer
Oxford
Pete Fisher
Oxford
Simon Jones
Solihull
Dean Stewart
Wolverhampton
Nicky Bache
Wolverhampton
Dean Harris
Worcester
Die Vertreter der BDO Countys

Mike Nott
Avon
Andy Murray
East Stirlingshire
Tony Hutchinson
Hampshire
Hugh Ringland
Lothian
Ian Gleeson
Northumberland
Jay Foreman
Nottinghamshire
Mark Harris
Surrey
Prakash Jiwa
Warwickshire
Kevin Lowe
Bedfordshire
Henry O'Neill
Gloucestershire
UK Open - Geschichte
Jahr
Sieger
E
Finalist
Preisgeld
Sponsor
2023
v
450.000
Cazoo
2022
D.Noppert
11:10
M.Smith
450.000
Cazoo
2021
J.Wade
11:5
L.Humphries
450.000
Ladbrokes
2020
M.v.Gerwen
11:9
G.Price
450.000
Ladbrokes
2019
N.Aspinall
11:5
R.Cross
450.000
Coral
2018
G.Anderson
11:7
C.Cadby
350.000
Coral
2017
P.Wright
11:6
G.Price
350.000
Coral
2016
M.v.Gerwen
11:4
P.Wright
300.000
Coral
2015
M.v.Gerwen
11:5
P.Wright
300.000
Coral
2014
A.Lewis
11:1
T.Jenkins
250.000
Coral
2013
P.Taylor
11:4
A.Hamilton
200.000
Speedy
2012
R.Thornton
11:5
P.Taylor
200.000
Speedy
2011
J.Wade
11:8
W.Newton
200.000
Speedy
2010
P.Taylor
11:5
G.Anderson
200.000
Rileys
2009
P.Taylor
11:6
C.Osborne
200.000
B.Square
2008
J.Wade
11:7
G.Mawson
178.000
B.Square
2007
R.v.Barneveld
16:8
V.v.Voort
150.000
B.Square
2006
R.v.Barneveld
13:7
B. Bates
124.000
Budweiser
2005
P.Taylor
13:7
M.Walsh
124.000
Budweiser
2004
R.Scholten
11:6
J.Part
124.000
Budweiser
2003
P.Taylor
18:8
S.Burgess
124.000
Skybet
E=Endstand