UK Open 2005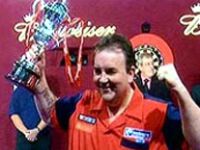 Die UK Open fanden 2005 zum dritten Mal statt. Das Turnier wurde durch die Professional Darts Corporation organisiert und wurde vom 10. bis 12. Juni im Reebok Stadium, Bolton ausgetragen. Insgesamt 170 Spieler versuchten einen der 48 Startplätze zu ergattern. Phil Taylor gewann das Turnier durch einen 13:7 Erfolg im Finale gegen Mark Walsh. The Power schaffte darüber hinaus im Halbfinale gegen Roland Scholten seinen dritten, vom Fernsehen übertragenen, 9-Darter.
Mit Deta Hedman ging, wie im Vorjahr, eine Dame an den Start bei den UK Open. Die Engländerin besiegte ihre Landsleute Aaron Turner und Norman Fletcher, ehe sie sich in der vierten Runde dem Waliser Wayne Atwood mit 1:8 geschlagen geben musste.
UK Open 2005 Ergebnisse
Freitag, 10. Juni 2005, Vorrunde, Best of 7 Legs
Vor dem eigentlichen Start der Hauptrunde der PDC UK Open 2005 mussten einige Teilnehmer ein Vorrundenspiel absolvieren, unter ihnen der dreifache Weltmeister John Lowe. Er hatte kaum Probleme beim 4:2 Sieg über Jimmy Pryde aus Wantage. PDC Gründungsmitglied Kevin Spiolek setzte sich knapp mit 4:3 gegen den Iren Paul Dillon durch, der im Vorjahr beim World Grand Prix gestartet war. Steve Alker zeigte in seinem Vorrundenspiel eine herausragende Leistung als er mit Finishes von 137, 120, 121 und 96 eine 100-prozentige Checkquote erreichte.
| | | |
| --- | --- | --- |
| James Barton | 0:4 | Steve Alker |
| John Lowe | 4:2 | Jimmy Pryde |
| Mike Smith | 2:4 | Mark Tiller |
| Marcus Knapman | 3:4 | Alan Tabern |
| Wayne Atwood | 4:1 | Clive Bardon |
| Gary Ellis | 4:2 | Robert Heard |
| Mel Porter | 0:4 | Andy Boulton |
| Arthur Griffiths | 4:1 | Vernon Shepard |
| Ian Crichett | 4:2 | Mark Davis |
| Ian Lever | 4:1 | Scott Lacroix |
| Nick Doabe | 3:4 | Mark Holyoake |
| Geoff Harkup | 1:4 | Eamon Lily |
| Kevin Rudling | 0:4 | Steve Grittins |
| Richard Cantwell | 2:4 | Rikki Blay |
| Ian Wise | 4:1 | Matt Sheehan |