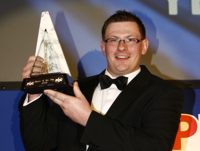 Exclusive
Darts1 interview
with James Wade
Do you do something to improve your fitness and do you think fitness is essential?
No, but I should as the game is getting more strenuous.
How do you manage disagreeable or unfair opponents?
Ignore them and beat them.
For some time players like Dennis Priestley with his slow throw seemed to be a problem for you. How did you solve it?
Play my own game and play the board not the player.
Looking at long time players like Taylor, Part, Barneveld and young players like you or Kevin McDine, you seem to be very evenly matched. What do you think is it that helps you to win against them? You just can't have as much routine or experience.
Players like myself, Kevin and Adrian Lewis have learnt from them guys, and with all the events now it does not take long to adapt.
Is it difficult for you somehow to play such a player, to overcome respect or admiration or awe?
It was when I started, but as I said above, you have to adapt very quickly. I have the utmost respect for Phil, Raymond, Dennis and John because they are all legends and true gentlemen, but when I play them I have to blank that out and play my own game.
What do you do to put a defeat behind you?
Analyse what I did wrong, or like when Kevin beat me in the GSOD, I just accept he played awesome and move on.
Do you think darts is a mental game?
Yes.
>>
Pressure, focus and world champions