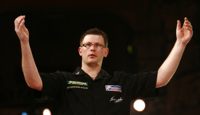 Exclusive
Darts1 interview
with James Wade
James Wade, World Matchplay and World Grand Prix winner, second in the Premier League and hot aspirant for the world championship title, was available for this exclusive Interview, thanks a lot.
When and why did you start playing darts?
Played with my dad when 14
When did you know that you could become a very good dart player?
Around 16/17
Did you have or do you still have role models?
Paul Lim when I was 1st playing, Phil Taylor and Raymond Barneveld recently
As I did read only recently you first played BDO. When did you start playing BDO?
2000
Did you or do you still play league darts?
Played local leagues and super league, not now as i am to busy with PDC events and exhibitions
What where your greatest successes during your time with the BDO?
Playing for England youth and mens teams, winning swiss open 2002
When and why did you change to the PDC?
2004 full time, any player who wants to succeed in my opinion should play PDC darts as it is more professional and players are treated like professional sportsmen
Was the change easy? Or did you have some problems?
Once commited to PDC it was easy to change to rigourous schedule. Only problems were a few vindictive individuals within the BDO system, all players were fine just some officials and spectators who liked the BDO system
>>
Tournaments and fans