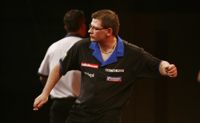 Exclusive
Darts1 interview
with James Wade
When did you get a professional darts player?
2006
A lot of dart fans in Germany are astonished you still work in the garage. Why did you return to your job?
To relax and have another interest away from darts
Is the PDC more straining than the BDO?
Yes but the rewards are greater
Are there perhaps too many tournaments?
NO.
What do you think about the GDC and the tournaments in Germany?
VERY IMPRESSED with both
What's your favourite tournament?
Stan James World Matchplay in July
Do you like playing on stage and why (or why not)
Yes, the atmosphere and adrenalin is amazing
Do you prefer the weekend tournaments, were you have to play all day long or the big tournaments, where you've only got one match a day?
Big tournaments week long, you can prepare better
Which are more demanding or difficult to play?
One day events are very strenuous.
How important are spectators and fans for you? How much do you discern them at all?
I appreciate all fans and there support to me
>>
Premier League, strengths and talents