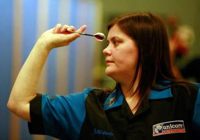 Exclusive
Darts1 Interview
with Irina Armstrong
Irina Armstrong, No. 1 of the World Darts Federation (WDF), winner of the Open Flanders, Primus Masters, Open France, Open Holland, Open Zercom, Dutch Pentathlon, Open Dortmund and the German Gold Cup just in 2008, was available for this exclusive Darts1 interview, thanks a lot.
Irina, you've got the Russian nationality, but you live in Germany, play darts in Holland and your husband is English. Did I get that right?
Yes thats right, and just to things on our first date we had dinner in a Japanese restaurant and went to a night club in Belgium.
When and why did you come to Germany?
I first came to Germany around 15 years ago to attend school.
And how did you meet your husband?
I met him in a cafe in Aachen in Germany.
Living so near one of the main darting countries is probably an advantage, but did you ever think about moving to England?
We have spoken about it very often and maybe one day it will happen.
Did you already start playing darts when living in Russia? From Anastasia I did hear there exist schools where Darts it taught as a sport?
I had never even heard of the game when I lived in Russia although I have now played there.
How did you come in contact with darts?
Shortly after I met my husband he bought a bar in the Netherlands where they played a lot of darts.
Is your husband a darts player as well?
He was but stopped playing in order to support me in my dart career.
How long do you play by now?
Around 9 years now.
Was it very hard for you in the beginning? I heard from Anton Pein that he in the beginning of his career didn't even hit the board. Was it as difficult for you or are you more a natural player?
I never had that problem, I was hitting the 20 straight away so I guess I just have a little gift for the game.
>>
Irina's darts and playing league