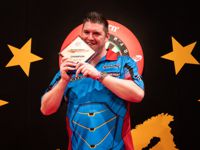 German Darts
Champion­ship
PDC European Tour 2020
Die German Darts Championship ist das zweite von insgesamt vier Turnieren der PDC European Tour.
Sie findet vom 25. bis 27. September 2020 in der Halle 39, Hildesheim, Deutschland statt.
Daryl Gurney besiegte Ricky Evans im Finale der German Darts Championship 2019 in Hildesheim mit 8:6. Das Endspiel war bis zum 6:6 Unentschieden völlig offen, ehe "SuperChin" seine ganze Erfahrung ausspielte und zwei Legs in Folge gewann. Er übernahm damit die Führung in der entsprechenden Rangliste, mit der die Startplätze für die Europameisterschaft vergeben werden. Adrian Lewis und Keegan Brown erreichten die Vorschlussrunde. James Wade schaffte zuvor gegen Darren Webster einen Neundarter und verlor dennoch die Partie.
Die besten 16 Dartspieler der PDC Pro Tour-Rangliste sind automatisch für den Wettbewerb qualifiziert und gemäß ihrer Platzierung für die zweite Runde gesetzt. Außerdem sind die beiden besten Spieler des jeweiligen Gastgeberlandes erstmals automatisch dabei. 30 weitere Teilnehmer werden über eine Kombination von Qualifikationsturnieren ermittelt.
Alle Spiele werden auf der Bühne ausgetragen. Die gesetzten Spieler greifen am Samstag, den 4. Juli in das Geschehen ein. Sonntags finden die dritte Runde, die Viertel- und Halbfinale sowie das Finale statt.
Alle Spiele bis zum Viertelfinale werden im Format Best of 11 Legs gespielt, das bedeutet, dass derjenige gewinnt, der zuerst sechs Legs verbuchen kann. Die Professional Darts Corporation gab 2018 für die Halbfinals und das Finale eine Verlängerung der Distanz bekannt. Die Vorschlussrunde wird nun Best of 13 Legs gespielt, das Endspiel im Format Best of 15 Legs.
European Tour 2
German Darts Championship Spielplan
Scott Waites
6:3
Darren Penhall
William O'Connor
6:1
Daniel Larsson
Richard North
6:5
Ron Meulenkamp
Steve Lennon
6:2
Boris Koltsov
Jeff Smith
6:5
Franz Roetzsch
Lukas Wenig
6:4
Cody Harris
Dragutin Horvat
6:4
Ronny Huybrechts
Mervyn King
6:1
Steffen Siepmann
Danny Noppert
6:2
Josh Payne
Adam Hunt
6:3
Steve Brown
Gabriel Clemens
6:1
Steve West
Nico Kurz
6:4
Jason Lowe
Max Hopp
6:2
Reece Robinson
Devon Petersen
6:3
Jeffrey de Zwaan
Chris Dobey
6:3
Ryan Murray
Michael Smith
6:2
Alan Tabern
Dave Chisnall
6:0
Lukas Wenig
Mervyn King
6:2
Jermaine Wattimena
Danny Noppert
6:2
Adrian Lewis
Daryl Gurney
6:1
Gabriel Clemens
Nathan Aspinall
6:2
Dragutin Horvat
Glen Durrant
6:3
Scott Waites
Rob Cross
6:3
William O'Connor
Jonny Clayton
6:4
Chris Dobey
Max Hopp
6:4
Ian White
Mensur Suljovic
6:4
Jeff Smith
Michael van Gerwen
6:2
Steve Lennon
Peter Wright
6:3
Michael Smith
Krzysztof Ratajski
6:2
Richard North
Devon Petersen
6:5
Gerwyn Price
Joe Cullen
6:4
Adam Hunt
James Wade
6:2
Nico Kurz
Mervyn King
6:1
Michael van Gerwen
James Wade
6:1
Mensur Suljovic
Jonny Clayton
6:3
Peter Wright
Dave Chisnall
6:3
Nathan Aspinall
Danny Noppert
6:4
Max Hopp
Daryl Gurney
6:4
Glen Durrant
Devon Petersen
6:5
Rob Cross
Krzysztof Ratajski
6:2
Joe Cullen


Viertelfinale, Best of 11 Legs
Mervyn King
6:2
James Wade
Jonny Clayton
6:5
Dave Chisnall
Danny Noppert
6:2
Daryl Gurney
Devon Petersen
6:3
Krzysztof Ratajski
Jonny Clayton
7:3
Mervyn King
Devon Petersen
7:4
Danny Noppert
| | | |
| --- | --- | --- |
| Devon Petersen | 8:3 | Jonny Clayton |
2. Runde
Achtelfinale
Viertelfinale
Halbfinale
Best of 11 Legs
Best of 11 Legs
Best of 11 Legs
Best of 13 Legs
6
M.v.Gerwen
2
S.Lennon
1
M.v.Gerwen
2
J.Wattimena
6
M.King
6
M.King
6
M.King
6
M.Suljovic
2
J.Wade
4
J.Smith
1
M.Suljovic
6
J.Wade
6
J.Wade
2
N.Kurz
3
M.King
6
D.Chisnall
7
J.Clayton
0
L.Wenig
6
D.Chisnall
6
N.Aspinall
3
N.Aspinall
2
D.Horvat
5
D.Chisnall
6
P.Wright
6
J.Clayton
3
M.Smith
3
P.Wright
6
J.Clayton
6
J.Clayton
4
C.Dobey
5
G.Price
6
D.Petersen
6
D.Petersen
6
R.Cross
5
R.Cross
3
W.Connor
6
D.Petersen
6
K.Ratajski
3
K.Ratajski
2
R.North
6
K.Ratajski
6
J.Cullen
2
J.Cullen
4
A.Hunt
7
D.Petersen
6
D.Gurney
4
D.Noppert
1
G.Clemens
6
D.Gurney
6
G.Durrant
4
G.Durrant
3
S.Waites
2
D.Gurney
4
I.White
6
D.Noppert
6
M.Hopp
4
M.Hopp
2
A.Lewis
6
D.Noppert
6
D.Noppert
Finale
Best of 15 Legs
Devon Petersen
8:3
Jonny Clayton
Preisgelder der German Darts Championship
| | |
| --- | --- |
| Sieger | 25.000 £ |
| Finalist | 10.000 £ |
| Halbfinale | 6.500 £ |
| Viertelfinale | 5.000 £ |
| Letzte 16 | 3.000 £ |
| Letzte 32 | 2.000 £ |
| Letzte 64 | 1.000 £ |
| Gesamt | 140.000 £ |
▶ German Darts Championship 2020 · 2019 · 2018 · 2017 · 2016 · 2015 · 2014 · 2013 · 2012
▶ German Darts Championship Statistiken (PDF, 420 kB)
▶ European Tour 2020 · 2019 · 2018 · 2017 · 2016 · 2015 · 2014 · 2013 · 2012