| | | | | | | | |
| --- | --- | --- | --- | --- | --- | --- | --- |
| Interview Robert Thornton | Back | 1 | 2 | 3 | 4 | Forward | |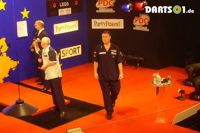 Exclusive
Darts1 interview
with Robert Thornton
What do you think how much is talent in a good player and how much is practice?
All players are different. Some are natural dart players, others are not so they have to work harder
What are for you the characteristics of a good dart player?
Confidence and mental attitude
Mervyn King said, after he had changed to the PDC, he in fact didn't practice at all during BDO times and did win nevertheless. Would you agree with this or do you think that's nonsense, you have of course to practice playing BDO as well, when you want to be under the Tops?
Mervyn is a top class player and I have no reason not to believe him but I always practice
What would you say is your strength?
My finishing is usually very good
Do you think "just throw your darts" what you can often hear is really all you have to do or are there other things to learn for playing darts?
You learn everytime you play
James Wade somewhere mentioned you really "love" practicing and are tireless. How do you motivate yourself for such an intensive practice?
My motivation is just doing well in tournaments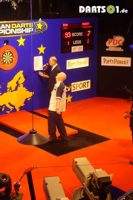 Do you think Phil Taylor will be once again World Champion or is there anyone, who can stop him?
That's down to us other players to try and stop. We all want to be World Champion
We were talking recently in different foren about nine-darters and how many the top players did manage. There even exist a video, where the premier league players talk about their achievements. How much nine-darters did you already throw? In competition? In practice?
I have done some in practice but never in competition
What is you dream to achieve in darts?
Just to do as well in tournaments as I can and not let down the people who help and support me