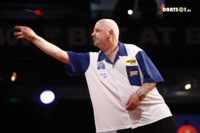 Exclusive
Darts1 interview
with Robert Thornton
Robert Thornton, winner of the Winmau World Masters and Dutch Open, former no. 1 of the BDO and 36th of the PDC Order of Merit, was available for this exclusive Darts1 interview, thanks a lot.
Robert, you did jump more or less headfirst into the PDC and took part in a major tournament. Was that very difficult for you to start like this?
It is always very difficult starting something new
Had you any problems with the PDC players? How did they receive you?
No problems. The PDC players received me very well
And the fans? Did you feel welcome or were there any negative reactions?
There were no negative reactions from the fans. They were very positive about me moving over.
I would say you had an impressive start. Did you feel relieved, were you content?
There is always pressure starting something new and I did feel relieved
Your change was a little bit a surprise; everybody always was talking about Gary Anderson. What was the main reason for you to change?
I felt it was the right time to change
Do you think the PDC is a bigger challenge for you?
Different players and atmosphere is always a challenge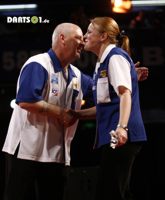 Strange enough you had to play in Bolton the BDO Women World Champion and former BDO player Michael van Gerwen. Both you probably know quite well. Did that help you?
No it did not help me. I had never played them before
Is it easier for you to play not so familiar players?
Playing players you have never played before makes you try harder
>>
Professionals and national team