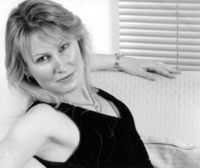 Exklusive
Darts1 interview
with Trina Gulliver
When and why did you start playing darts?
I first had a dart put into my hand at the age of two years old by a customer in my parent's pub in Southam, Warwickshire.
Are you a well known person, a VIP perhaps?
I am very well known in the world of darts and in my home town of Southam but unfortunately women's darts does not have the high profile of the men's game and so is not featured on TV very much. I think you need to be seen on world wide TV to become really famous.
Did you have or do you still have role models?
My greatest influences in my sport have been two former number one English lady darts players, Deta Hedman and Mandy Solomons. Deta helped me at international events and both helped me to cope with the big occasion which gave me the confidence I needed to become a champion.
What's your favourite tournament?
It has to be the Embassy/Lakeside World Professional Women's Darts Championship which, to date, I have won seven times out of seven.
Do you like playing on stage and why (or why not)?
I love playing on stage. It is what I do. I love performing well for my fans.
How important are spectators and fans for you? How much do you discern them at all?
I think spectators and fans are very important. Darts players would be nowhere without them. I always take time out to talk to them and sign autographs and I thank them for their continuing support.
What's for you most important in darts? What fascinates you most?
Most important to me is to play well and to win. That is what the fans want to see. What fascinates me most at the moment is the high level of play being achieved by the young up and coming female darts players.
Did it always fascinate you the same or were there times you would have preferred another job?
My original trade was that of a carpenter/joiner. That is what I trained for after I left school and it is something I can go back to if I ever decide to give up darts. I am moving into a new house soon and will be undertaking a lot of the work to the house myself. When I started playing darts seriously I simply wanted to play better and better and there came a point when I knew I could become a great player.
>>
Strength, weakness, fitness