| | | | | | | | | |
| --- | --- | --- | --- | --- | --- | --- | --- | --- |
| Interview van Barneveld | Back | 1 | 2 | 3 | 4 | 5 | Forward | |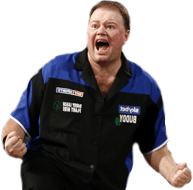 Exclusive
Darts1 interview
with
Raymond van Barneveld
How do you prepare for a tournament? What do you do in the morning before a tournament?
Besides practice, we go to the gym. Also on the matchday (low level of course). Out of bed about 8.30, good breakfast, some meditation, and relax. We always be there at the venue 3 hours before the match to start practice (warming up).
Do you do something to improve your fitness and do you think fitness is essential?
Very essential. To play a high level you need concentration, so also a physical condition. Concentration cost a lot of energy.
Did you ever have any problems with your arm, back or shoulder?
In 1988 I broke my hand with an accident.
How do you manage disagreeable or unfair opponents?
Try to ignore them during the match. Afterwards I am gonna talk with them (or my manager).
How do you manage to cope with the different throwing speeds of your opponents?
I have to deal with that, because you can't change it. Sometimes we prepare ourselves for that in a practice.
What do you do to put a defeat behind you?
Do something totally different and leave darts for what it is for a moment.
Do you think darts is a mental game?
Yes, for more than 80%.
Do you do some kind of mental practice (for example visualising)? What do you do to withstand the pressure? Is it something, you just get used to? Or something you can learn?
Meditation is a very good method. Besides that it is very difficult to prepare yourselve for pressure.
Of course we here in Germany heard about your book and would like to read it too. Will there be a German edition or at least an English one we can look forward to?
I think there will be an English version in 2008. Right now there are not any plans about a German version, but you'll never know.