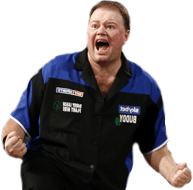 Exclusive
Darts1 interview
with
Raymond van Barneveld
Do you yourself do something to support the youth darters?
On the moment I don't have the time. Maybe in the future I can manage or guide young talents. But I am always there to give them mental support and advise.
Is the dart sport still flourishing in Holland?
Slightly growing maybe
Why are most successful dart players from England or Holland, do you think it has to do with mentality?
It is a story of history. Darts was a really typical UK-sport. A good TV-sport. So, after my Embassy victory the sport explode in Holland. You can say that every country needs a champion to develop darts.
When did you get a professional dart player?
1998
Why did you change to the PDC?
To meet the best players in the world, because of the challenge and of course to play Phil Taylor. Besides that I am a professional and the PDC gives you all the possibilities.
Was the change easy? Or did you have some problems?
No, it was not easy if you realise that you play all those years at the BDO. But I was not the only one, so that made it easier.
How were you received by the PDC players as you certainly are a serious competitor?
Great. No problem at all. All the players realised that darts was booming again, so I think it was good for every player.
Are there perhaps too many tournaments?
Sometimes it is too much. So you have to make a program what you want to play, we are very keen about that.
How do you see your chances to hold your world champion title?
It will be more difficult than ever. There are so many good players who can win the title.
>>
Titles and competitions