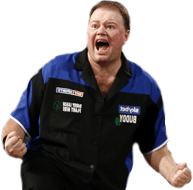 Exclusive
Darts1 interview
with
Raymond van Barneveld
When and why did you start playing darts?
When I was 17 years old (1984). My present I got was a dartsboard. At that time it was the only thing I was good at.
Was darts already popular in Holland when you started to play?
Not so popular. At that time we had 7000 active players. These days we have about 45000 active players
How did you change darts in Holland? Did you cause the Dutch "dart boom"?
After my first World Championship in 1998 the booming started. The shops sold so many boards and darts. Unbelievable.
Are you a well known person, a VIP perhaps?
What can I say, most of the people recognize me on the street, also in the UK. It is strange how many invitations we receive for TV-programs.
Did you have or do you still have role models?
Eric Bristow was always my idol
We hear a lot about dart boarding schools and supporting the youth darters in Holland. Can you tell us something about it?
Not really schools, but we have a lot of darts clubs, also for younger players. And we have special ranking tournaments for the youth.
What do you think about those many Dutch young talents, how is it possible to play so good without any experience?
I think it is caused by the mentality. The younger players will identify themselves with the big players. They watch carefully how they play and calculate. A lot of younger players of 12 years old know every combination how to finish.
Who do you think is the most talented?
Michael van Gerwen and Jelle Klaasen
>>
Darts in holland, switch to the PDC