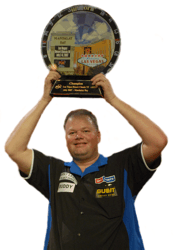 Exclusive
Darts1 interview
with
Raymond van Barneveld
Who besides Phil Taylor do you think will be the most dangerous rival?
Difficult to say, maybe James Wade or Terry Jenkins. But as I said before, there are much more players.
What keeps you motivated after you did win more or less everything now you could win?
Winning more titles
What do you think about the GDC and the tournaments in Germany?
Every time it is more and more professional. I am very happy that the GDC put so much effort in darts in Germany. I believe darts can be very big in Germany.
What's your favourite tournament?
The Premier League, but every TV-tournament with a lot of spectators is great.
Do you like playing on stage and why (or why not)?
Yes, that's part of the deal. Because of the organisation you can better prepare yourself. At the other hand it gives much more pressure.
Do you prefer the weekend tournaments, were you have to play all day long or the big tournaments, were you've only got one match a day?
I prefer one match a day
Which are more demanding or difficult to play?
Every game is difficult
How important are spectators and fans for you? How much do you discern them at all?
They are very important. You have to be aware of the fact that without fans and spectators, there are no big tournaments. I am a Dutch player, but even in the UK, I get a lot of support. You can imagine what it will do if a lot of people will scream "Barney Army".
At an important tournament do you feel you play the opponent or the board?
Most of the time the board of course. But sometimes your opponent plays much better than usual and you're thinking "where is that coming from". Besides that it depends on the behaviour of your opponent on stage. Normally I just focus on the board.
>>
Tips & training