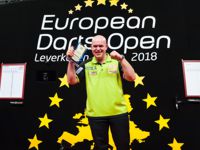 European Darts Open
PDC European Tour 2019
Die European Darts Open waren das erste von insgesamt 13 Turnieren der PDC European Tour.
Sie fanden vom 22. bis 24. März 2019 in der Ostermann-Arena, Leverkusen statt.
Michael van Gerwen schlug Peter Wright im Finale der European Darts Open 2018 mit 8:7. Der Weltranglisten Erste unterstrich dabei einmal mehr seine Ausnahmestellung. Trotz eines schwachen Starts und zwischenzeitlichen 1:5 Rückstands steckte er nicht auf, steigerte sich immer weiter und drehte die Partie noch zum Sieg. Nicht zuletzt durch seine neun Maxima stand am Ende ein Average von 102,07. Richard North und James Wade mussten sich zuvor in den Halbfinals deutlich geschlagen geben.
Die besten 16 Dartspieler der PDC Pro Tour Rangliste sind automatisch für die Tour qualifiziert und gemäß ihrer Platzierung für die zweite Runde gesetzt, 32 weitere Teilnehmer werden über eine Kombination von Qualifikationsturnieren ermittelt.
Alle Spiele werden auf der Bühne ausgetragen. Die gesetzten Spieler greifen am Samstag, den 24. März in das Geschehen ein. Sonntags finden die dritte Runde, die Viertel- und Halbfinale sowie das Finale statt.
Alle Spiele bis zum Viertelfinale werden im Format Best of 11 Legs gespielt, das bedeutet, dass derjenige gewinnt, der zuerst sechs Legs verbuchen kann. Die Professional Darts Corporation gab 2018 für die Halbfinals und das Finale eine Verlängerung der Distanz bekannt. Die Vorschlussrunde wird nun Best of 13 Legs gespielt, das Endspiel im Format Best of 15 Legs.
European Tour 1
European Darts Open Spielplan
Justin Pipe
6:3
Ryan Meikle
Pavel Jirkal
6:1
William Borland
Matthew Dennant
6:5
Madars Razma
Fabian Herz
3:6
Scott Taylor
Ross Smith
6:0
Ricky Williams
Adam Hunt
6:3
Danny van Trijp
Ted Evetts
6:3
Martin Atkins
Wesley Plaisier
6:4
Jyhan Artut
Matthew Edgar
5:6
Krzysztof Ratajski
Jeffrey de Zwaan
6:1
Josh Payne
Kim Huybrechts
6:5
Nico Kurz
Jason Wilson
1:6
Mervyn King
Michael Rosenauer
4:6
Glen Durrant
Ritchie Edhouse
1:6
D. Van den Bergh
Steve Beaton
6:4
R. van Barneveld
Wayne Jones
2:6
V. van der Voort
Darren Webster
6:3
Pavel Jirkal
James Wade
6:3
Wesley Plaisier
Ian White
5:6
Justin Pipe
Gerwyn Price
6:3
Scott Taylor
Dave Chisnall
6:2
Ted Evetts
Jonny Clayton
6:3
Adam Hunt
Michael Smith
5:6
Krzysztof Ratajski
Daryl Gurney
6:2
Jeffrey de Zwaan
Adrian Lewis
3:6
D. Van den Bergh
Jermaine Wattimena
6:5
Glen Durrant
Joe Cullen
6:1
V. van der Voort
Michael van Gerwen
6:1
Mervyn King
Rob Cross
6:3
Steve Beaton
Mensur Suljovic
6:4
Matthew Dennant
Simon Whitlock
5:6
Ross Smith
Peter Wright
6:2
Kim Huybrechts
Michael van Gerwen
6:0
Jermaine Wattimena
Krzysztof Ratajski
4:6
Gerwyn Price
Mensur Suljovic
6:3
Joe Cullen
James Wade
6:1
Dave Chisnall
Justin Pipe
6:1
Darren Webster
Rob Cross
6:4
Jonny Clayton
D. Van den Bergh
0:6
Daryl Gurney
Peter Wright
6:3
Ross Smith


Viertelfinale, Best of 11 Legs
Michael van Gerwen
6:5
Gerwyn Price
Mensur Suljovic
6:2
James Wade
Justin Pipe
2:6
Rob Cross
Daryl Gurney
3:6
Peter Wright
Michael van Gerwen
7:5
Mensur Suljovic
Rob Cross
7:5
Peter Wright
| | | |
| --- | --- | --- |
| Michael van Gerwen | 8:6 | Rob Cross |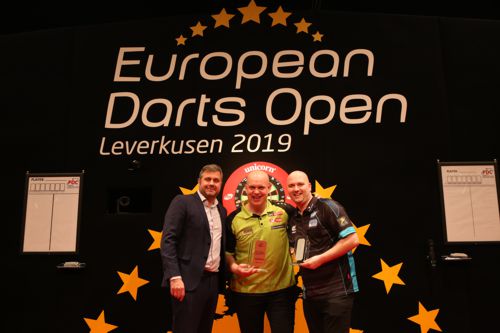 2. Runde
Achtelfinale
Viertelfinale
Halbfinale
Best of 11 Legs
Best of 11 Legs
Best of 11 Legs
Best of 13 Legs
6
M.v.Gerwen
1
M.King
6
M.v.Gerwen
6
J.Wattimena
0
J.Wattimena
5
G.Durrant
6
M.v.Gerwen
5
M.Smith
5
G.Price
6
K.Ratajski
4
K.Ratajski
6
G.Price
6
G.Price
3
S.Taylor
7
M.v.Gerwen
6
M.Suljovic
5
M.Suljovic
4
M.Dennant
6
M.Suljovic
6
J.Cullen
3
J.Cullen
1
V.v.d.Voort
6
M.Suljovic
6
J.Wade
2
J.Wade
3
W.Plaisier
6
J.Wade
6
D.Chisnall
1
D.Chisnall
2
T.Evetts
6
P.Wright
2
K.Huybrechts
6
P.Wright
5
S.Whitlock
3
R.Smith
6
R.Smith
6
P.Wright
3
A.Lewis
3
D.Gurney
6
D.V.d.Bergh
0
D.V.d.Bergh
6
D.Gurney
6
D.Gurney
2
J.d.Zwaan
5
P.Wright
6
R.Cross
7
R.Cross
3
S.Beaton
6
R.Cross
6
J.Clayton
4
J.Clayton
3
A.Hunt
6
R.Cross
5
I.White
2
J.Pipe
6
J.Pipe
6
J.Pipe
6
D.Webster
1
D.Webster
3
P.Jirkal
Finale
Best of 15 Legs
Michael van Gerwen
8:6
Rob Cross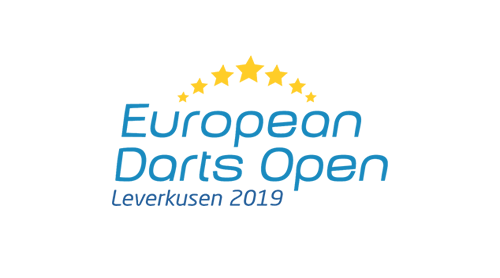 Preisgelder der European Darts Open
| | |
| --- | --- |
| Sieger | 25.000 £ |
| Finalist | 10.000 £ |
| Halbfinale | 6.500 £ |
| Viertelfinale | 5.000 £ |
| Letzte 16 | 3.000 £ |
| Letzte 32 | 2.000 £ |
| Letzte 64 | 1.000 £ |
| Gesamt | 140.000 £ |
European Darts Open Teilnehmer
PDC Top 16 Spieler
01 Michael van Gerwen
02 Ian White
03 Peter Wright
04 James Wade
05 Mensur Suljovic


06 Adrian Lewis
07 Rob Cross
08 Michael Smith
09 Gerwyn Price
10 Jonny Clayton
11 Daryl Gurney
12 Joe Cullen
13 Dave Chisnall
14 Simon Whitlock
15 Darren Webster
16 Jermaine Wattimena
Britische Qualifikanten
Mervyn King
Justin Pipe
Scott Taylor
Ricky Williams
Adam Hunt
Steve Beaton
William Borland
Ross Smith
Glen Durrant
Ritchie Edhouse
Josh Payne
Jason Wilson
Ted Evetts
Wayne Jones
Matthew Dennant
Ryan Meikle
Mathew Edgar
Martin Atkins
Osteuropäischer Qualifikant
Pavel Jirkal
Nordic & Baltic Qualifikant
Madars Razma
Qualifikanten mit Tour Karte
Kim Huybrechts
Jeffrey de Zwaan
Krzysztof Ratajski
Dimitri Van den Bergh
Raymond van Barneveld
Vincent van der Voort
Deutsche Qualifikanten
Fabian Herz


Michael Rosenauer


Nico Kurz


Jyhan Artut

Assoziierte Mitglieder
Wesley Plaisier
Danny van Trijp
▶ European Darts Open 2022 · 2019 · 2018 · 2017 · 2016 · 2015 · 2014 · 2013 · 2012
▶ PDC European Darts Open 2012-2022 (PDF, 924 kB)
▶ European Tour 2022 · 2021 · 2020 · 2019 · 2018 · 2017 · 2016 · 2015 · 2014 · 2013 · 2012