World Matchplay Darts 2012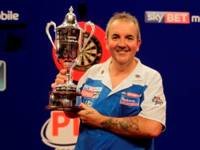 Das World Matchplay ist neben der Weltmeisterschaft das älteste und wichtigste Turnier der PDC. Es findet vom 21. bis 29. Juli 2012 im Emperess Ballroom des Winter Gardens von Blackpool statt.
Das World Matchplay, das seit 1994 gespielt wird, brachte bisher sechs verschiedene Sieger hervor. Die erste Auflage wurde vom Amerikaner Larry Butler gewonnen, Phil Taylor trug sich die letzten vier und insgesamt 12 Mal in die Siegerliste ein, außerdem waren in der Vergangenheit Peter Evison, Rod Harrington, Colin Lloyd und James Wade beim World Matchplay erfolgreich.
Beim World Matchplay treten die ersten 16 des PDC Order of Merit gegen die ersten 16 des Players Championship Order of Merit an und kämpfen um den Titel und die ausgelobten 100.000 £ Siegprämie.
World Matchplay Spielplan
| | | | |
| --- | --- | --- | --- |
| 20.10 Uhr | Paul Nicholson | 6:10 | Andy Smith |
| 21.00 Uhr | Terry Jenkins | 11:9 | Kim Huybrechts |
| 22.00 Uhr | Adrian Lewis | 10:0 | Robert Thornton |
| 23.00 Uhr | Raymond van Barneveld | 10:4 | Michael Smith |
Sonntag, 22. Juli 2012
1. Runde, Best of 19 legs
| | | | |
| --- | --- | --- | --- |
| 20.10 Uhr | Mark Walsh | 10:8 | Colin Osborne |
| 21.00 Uhr | Kevin Painter | 6:10 | Steve Beaton |
| 22.00 Uhr | James Wade | 10:5 | Richie Burnett |
| 23.00 Uhr | Simon Whitlock | 6:10 | Michael van Gerwen |
Montag, 23. Juli 2012
1. Runde, Best of 19 legs
| | | | |
| --- | --- | --- | --- |
| 20.10 Uhr | Andy Hamilton | 10:7 | Brendan Dolan |
| 21.00 Uhr | Vincent van der Voort | 5:10 | Ian White |
| 22.00 Uhr | Phil Taylor | 10:8 | Mervyn King |
| 23.00 Uhr | Mark Webster | 10:6 | Colin Lloyd |
Dienstag, 24. Juli 2012
1. Runde, Best of 19 legs
| | | | |
| --- | --- | --- | --- |
| 20.10 Uhr | Justin Pipe | 10:4 | Joe Cullen |
| 21.00 Uhr | Wes Newton | 10:5 | James Hubbard |
| 22.00 Uhr | Gary Anderson | 11:13 | Dean Winstanley |
| 23.00 Uhr | Dave Chisnall | 7:10 | Ronnie Baxter |
| | | | |
| --- | --- | --- | --- |
| 20.10 Uhr | Michael van Gerwen | 13:9 | Steve Beaton |
| 21.20 Uhr | James Wade | 13:4 | Mark Walsh |
| 22.30 Uhr | Raymond van Barneveld | 10:13 | Terry Jenkins |
| 23.40 Uhr | Adrian Lewis | 13:7 | Andy Smith |
Donnerstag, 26. Juli 2012
2. Runde, Best of 25 legs
| | | | |
| --- | --- | --- | --- |
| 20.10 Uhr | Andy Hamilton | 13:6 | Mark Webster |
| 21.20 Uhr | Wes Newton | 10:13 | Justin Pipe |
| 22.30 Uhr | Phil Taylor | 13:3 | Ian White |
| 23.40 Uhr | Dean Winstanley | 8:13 | Ronnie Baxter |


Viertelfinale, Best of 31 legs
| | | | |
| --- | --- | --- | --- |
| 14.10 Uhr | Justin Pipe | 11:16 | Ronnie Baxter |
| 16.00 Uhr | Adrian Lewis | 12:16 | Terry Jenkins |
Freitag, 27. Juli 2012
Viertelfinale, Best of 31 legs
| | | | |
| --- | --- | --- | --- |
| 20.10 Uhr | Phil Taylor | 16:11 | Andy Hamilton |
| 22.00 Uhr | Michael van Gerwen | 13:16 | James Wade |
| | | | |
| --- | --- | --- | --- |
| 20.10 Uhr | Terry Jenkins | 15:17 | James Wade |
| 22.00 Uhr | Phil Taylor | 17:10 | Ronnie Baxter |
| | | | |
| --- | --- | --- | --- |
| 20.10 Uhr | Phil Taylor | 18:15 | James Wade |
Runde 2
Viertelfinale
Halbfinale
Finale
25. & 26.07.2012
27.07.2012
28.07.2012
29.07.2012
13
Adrian Lewis
7
Andy Smith
12
Adrian Lewis
10
R. van Barneveld
16
Terry Jenkins
13
Terry Jenkins
15
Terry Jenkins
13
M. van Gerwen
17
James Wade
9
Steve Beaton
13
M. van Gerwen
13
James Wade
16
James Wade
4
Mark Walsh
15
James Wade
13
Phil Taylor
18
Phil Taylor
3
Ian White
16
Phil Taylor
13
Andy Hamilton
11
Andy Hamilton
6
Mark Webster
17
Phil Taylor
10
Wes Newton
10
Ronnie Baxter
13
Justin Pipe
11
Justin Pipe
8
Dean Winstanley
16
Ronnie Baxter
13
Ronnie Baxter
Preisgelder des World Matchplay Darts 2012
| | |
| --- | --- |
| Sieger | 100.000 £ |
| Finalist | 50.000 £ |
| Halbfinale | 25.000 £ |
| Viertelfinale | 15.000 £ |
| 2. Runde | 7.500 £ |
| 1. Runde | 5.000 £ |
| Gesamt | 400.000 £ |
World Matchplay - Geschichte
Jahr
Sieger
E
Finalist
Preisgeld
Sponsor
2023
v
800.000
Betfred
2022
M.v.Gerwen
18:14
G.Price
800.000
Betfred
2021
P.Wright
18:09
D.V.d.Bergh
700.000
Betfred
2020
D.V.d.Bergh
18:10
G.Anderson
700.000
Betfred
2019
R.Cross
18:13
M.Smith
700.000
Betfred
2018
G.Anderson
21:19
M.Suljovic
500.000
BetVictor
2017
P.Taylor
18:08
P.Wright
500.000
BetVictor
2016
M.v.Gerwen
18:10
P.Taylor
450.000
BetVictor
2015
M.v.Gerwen
18:12
J.Wade
450.000
BetVictor
2014
P.Taylor
18:09
M.v.Gerwen
450.000
BetVictor
2013
P.Taylor
18:13
A.Lewis
400.000
BetVictor
2012
P.Taylor
18:15
J.Wade
400.000
Betfair
2011
P.Taylor
18:08
J.Wade
400.000
S.James
2010
P.Taylor
18:12
R.v.Barneveld
400.000
S.James
2009
P.Taylor
18:04
T.Jenkins
400.000
S.James
2008
P.Taylor
18:09
J.Wade
300.000
S.James
2007
J.Wade
18:07
T.Jenkins
200.000
S.James
2006
P.Taylor
18:11
J.Wade
150.000
S.James
2005
C.Lloyd
18:12
J.Part
120.000
S.James
2004
P.Taylor
18:08
M.Dudbridge
100.000
S.James
2003
P.Taylor
18:12
W.Mardle
80.000
S.James
2002
P.Taylor
18:16
J.Part
75.500
S.James
2001
P.Taylor
18:10
R.Burnett
65.000
S.James
2000
P.Taylor
18:12
A.Warriner
58.000
S.James
1999
R.Harrington
19:17
P.Manley
58.000
ohne
1998
R.Harrington
19:17
R.Baxter
58.000
ohne
1997
P.Taylor
16:11
A.Warriner
48.000
ohne
1996
P.Evison
16:11
D.Priestley
52.000
Websters
1995
P.Taylor
16:11
D.Priestley
42.800
Websters
1994
L.Butler
16:12
D.Priestley
42.800
P.Cars
E=Endstand