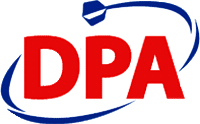 DPA Order of Merit
Darts Players Australia (DPA) ist der australische Ableger der Professional Darts Corporation (PDC). Er veranstaltet eine Serie von Turnieren (Australian Grand Prix). Platzierungen und Preisgeld finden sich in einer eigenen Rangliste, dem DPA Order of Merit wieder.
Es werden zwei Startplätze für die Weltmeisterschaft im Ally Pally an DPA Spieler vergeben, einer an den Sieger der Oceanic Masters und einer an den führenden der Rangliste. 2006 wurde bei den Oceanic Masters Geschichte geschrieben, als der 16-jährige Michell Clegg das Turnier gewinnen konnte. Er startete bei der folgenden Weltmeisterschaft als der jüngste Teilnehmer aller Zeiten.
Endstand 6.6.2020*
Die 2020er Tour der DPA wurde aufgrund der Coronapandemie nach 14 Spieltagen beendet. Gordon-Glen Mathers qualifiziert sich damit als erster Teilnehmer für die PDC Darts WM 2021.
| | | | |
| --- | --- | --- | --- |
| Position | Name | Punkte | Preisgeld |
| 1 | Gordon-Glen Mathers | 173 | $8,600 |
| 2 | Damon Heta | 116 | $6,150 |
| 3 | James Bailey | 112 | $2,550 |
| 4 | Robbie King | 99 | $4,575 |
| 5 | Tim Pusey | 94 | $2,600 |
| 6 | Mick Lacey | 92 | $1,600 |
| 7 | Mal Cuming | 90 | $4,275 |
| 8 | Brody Klinge | 89 | $1,675 |
| 9 | Brendon McCausland | 66 | $1,225 |
| 10 | Steve Fitzpatrick | 62 | $2,475 |
| 11 | Jamie Rundle | 61 | $2,050 |
| 12 | Brandon Weening | 58 | $1,225 |
| 13 | Rhys Mathewson | 56 | $1,025 |
| 14 | Raymond O'Donnell | 55 | $2,250 |
| 15 | Liam McLennan | 54 | $1,100 |
| 16 | Raymond Smith | 44 | $925 |
| 17 | Ben Robb | 41 | $2,200 |
| 18 | Kyle Anderson | 40 | $2,575 |
| 19 | Haupai Puha | 38 | $1,225 |
| 20 | Lucas Cameron | 26 | $425 |
| 20 | Mike Bonser | 26 | $375 |
| 22 | Rob Modra | 21 | $275 |
| 23 | Peter Sutton | 20 | $450 |
| 23 | Steve MacArthur | 20 | $325 |
| 25 | Stuart Coburn | 17 | $225 |
| 26 | Corey Naumann | 16 | $275 |
| 27 | Joshua Townsend | 15 | $275 |
| 28 | Clayton Collins | 14 | $350 |
| 28 | Matt Mullen | 14 | $300 |
| 28 | Ryan Lynch | 14 | $300 |
| 28 | Michael Cassar | 14 | $200 |
| 32 | Bill Aitken | 12 | $300 |
| 32 | Justin Thompson | 12 | $225 |
| 32 | Dean Dixon | 12 | $200 |
| 32 | Steve Powell | 12 | $150 |
| 36 | Mick Lean | 11 | $250 |
| 37 | Kerry Allen | 10 | $275 |
| 37 | Dave Littleboy | 10 | $150 |
| 39 | Alex Evans | 9 | $225 |
| 39 | Adam Bainbridge | 9 | $200 |
| 39 | Glen Jones | 9 | $175 |
| 39 | John Bunyard | 9 | $150 |
| 39 | Paul Cotton | 9 | $125 |
| 44 | Mark Wortley | 8 | $225 |
| 44 | Josh Kime | 8 | $200 |
| 44 | Dave Marland | 8 | $100 |
| 47 | Greg Lestrange | 7 | $150 |
| 48 | Ben Clark | 6 | $225 |
| 48 | Ian Dargan | 6 | $125 |
| 48 | Jason Fraser | 6 | $100 |
| 51 | Dean Abbott | 5 | $200 |
| 51 | Kenny Kennedy Jr | 5 | $125 |
| 51 | Tyler Fitch | 5 | $125 |
| 54 | Tommy Hyland | 4 | $100 |
| 54 | Barry Jouannet | 4 | $75 |
| 54 | Jimmy Raroa | 4 | $75 |
| 54 | Michael Ruthenberg | 4 | $75 |
| 54 | Dale Burton-Pye | 4 | $50 |
| 59 | David Evans | 3 | $150 |
| 59 | Rob Cameron | 3 | $150 |
| 59 | Tony Welland | 3 | $125 |
| 59 | Andrew Eagers | 3 | $100 |
| 59 | Shane Wolter | 3 | $75 |
| 59 | Wiremu Kurupo | 3 | $75 |
| 65 | Brendon Saunders | 2 | $100 |
| 65 | Dave Hanel | 2 | $100 |
| 65 | Doniovan Lottering | 2 | $100 |
| 65 | Peter Willmott | 2 | $100 |
| 65 | Scott Johnson | 2 | $100 |
| 65 | Tony Davey | 2 | $100 |
| 65 | Trevor Crooke | 2 | $100 |
| 65 | Tic Bridge | 2 | $75 |
| 65 | Brad Horton | 2 | $50 |
| 65 | Dean Gibbs | 2 | $50 |
| 65 | Greg Walsh | 2 | $50 |
| 65 | Jake Howie | 2 | $50 |
| 65 | Jordan Ford | 2 | $50 |
| 65 | Leigh Giblin | 2 | $50 |
| 65 | Rod Crawford | 2 | $50 |
| 80 | Alfred Wyatt | 1 | $50 |
| 80 | Dave Marshall | 1 | $50 |
| 80 | Dave Muller | 1 | $50 |
| 80 | David Boyle | 1 | $50 |
| 80 | David Smith | 1 | $50 |
| 80 | David Williams | 1 | $50 |
| 80 | Iain McCracken | 1 | $50 |
| 80 | James McDonald | 1 | $50 |
| 80 | Jim King | 1 | $50 |
| 80 | Josh Gibbins | 1 | $50 |
| 80 | Luke Hughes | 1 | $50 |
| 80 | Manny Kato | 1 | $50 |
| 80 | Mark Taafe | 1 | $50 |
| 80 | Mick Anderson | 1 | $50 |
| 80 | Paul Lacey | 1 | $50 |
| 80 | Richard Perceval | 1 | $50 |
| 80 | Russell Northey | 1 | $50 |
| 80 | Shaun Kopecki | 1 | $50 |
| 80 | Simon Black | 1 | $50 |
| 80 | Thomas Justice | 1 | $50 |
| 80 | Tremaine Gallagher | 1 | $50 |
| 80 | Vanessa James | 1 | $50 |
| 80 | Vic Ghilotti | 1 | $50 |
| 80 | Alan Grant | 1 | $25 |
| 80 | Darren Wolter-Gumley | 1 | $25 |
| 80 | Dave Martin-Henry | 1 | $25 |
| 80 | David Stanley | 1 | $25 |
| 80 | Dwayne Woodhouse | 1 | $25 |
| 80 | Jamie Wolff | 1 | $25 |
| 80 | Jason Barnes | 1 | $25 |
| 80 | Jean-Pierre van der Westhuizen | 1 | $25 |
| 80 | Joel Potter | 1 | $25 |
| 80 | Jon Pearson | 1 | $25 |
| 80 | Kayeigh Johnson | 1 | $25 |
| 80 | Lucas Gray | 1 | $25 |
| 80 | Marshal Allen | 1 | $25 |
| 80 | Matt Clarke | 1 | $25 |
| 80 | Matt Francois | 1 | $25 |
| 80 | Matthew Leahy | 1 | $25 |
| 80 | Nathan Reed | 1 | $25 |
| 80 | Nathan Simpson | 1 | $25 |
| 80 | Nathan Walsh | 1 | $25 |
| 80 | Pat Dargan | 1 | $25 |
| 80 | Pat Molloy | 1 | $25 |
| 80 | Ronald Holmes | 1 | $25 |
| 80 | Teresa Hore | 1 | $25 |
| 80 | Tyrell Coppini | 1 | $25 |
DPA Oceanic Masters - Geschichte
Jahr
Sieger
2002
Simon Whitlock
2003
Barry Jouannet
2004
Barry Jouannet
2005
Warren Parry
2006
Mitchell Clegg
2007
Warren Parry
2008
Russell Stewart
2009
Warren Parry
2010
Simon Whitlock
2011
Geoff Kime
2012
Kyle Anderson
2013
Beau Anderson
2014
John Weber
2015
Koha Kokiri
2016
David Platt
2017
Bernie Smith
2018
James Bailey
2019
Robbie King
2020
DPA Australian Grand Prix - Geschichte
Jahr
Sieger
2005
Brian Roach
2006
Anthony Fleet
2007
Glenn Power
2008
Paul Nicholson
2009
Simon Whitlock
2010
Rob Modra
2011
Sean Reed
2012
Shane Tichowitsch
2013
Kyle Anderson
2014
Loz Ryder
2015
Loz Ryder
2016
Corey Cadby
2017
Gordon Mathers
2018
Raymond Smith
2019
Damon Heta
2020