| | | | | | | | |
| --- | --- | --- | --- | --- | --- | --- | --- |
| Interview Mark Webster | Back | 1 | 2 | 3 | 4 | Forward | |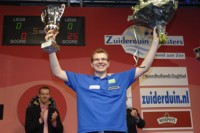 Exklusives
Darts1 Interview
mit Mark Webster
The BDO has a lot of team and doubles tournaments too, do you like those or would you say you prefer the single tournaments?
I really like to play this. They are a very nice distraction a lot of fun though I usually don't do well in them.
Do you play in the Welsh National Team?
Yes.
What till now was for you your biggest win? The win against Simon Whitlock or the one against Phil Taylor in the IDL 2007?
For me my biggest and most important win till now was definitely the one against Simon Whitlock for the World Champion title.
Do you think it's easier for a young player to go up the rankings in the BDO then in the PDC?
It might be a little bit easier in the BDO. But I am not really sure about this.
Did you ever think of switching over already or don't you feel yourself tempted at all by all the price money offered?
I of course think about it. But at the moment I would say no. Might be some time. I somehow feel not settled enough for that. The time isn't ripe yet.
As we rarely have the possibility to see BDO/WDF tournaments who would you think is in the current form your most dangerous opponent on a way to a second World Championship title?
The most obvious is of course Gary Anderson. But he's not the only one there are really quite a lot. I can't tie it to somebody.
Do you think you can manage it again?
Yes of course. I am sure I can.
What goals a World number one still has?
I am no longer number one only number two at the moment. Well, to get back to be number one of course. And get myself another World Champion title!!!