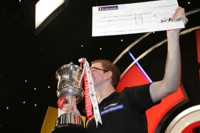 Exklusives
Darts1 Interview
mit Mark Webster
Do you practice a lot?
I practice as much as possible. But I have my job as well. Might be around two hours a day.
Do you see practicing as something you enjoy or is it more "work"for you?
Usually I enjoy it but it can be quite frustrating.
Frustrating even for a player like you?
Yes, it's not that I hit all. It's often enough very frustrating and I get sometimes very upset.
And what and how do you practice?
Most of the times I play legs, all straight legs of 501. And of course I practice a lot of doubles and finishes.
Do you use a trainer board with smaller segments for practice?
I use a totally normal Winmau Blade III.
What would you say is your strength and what your weakness?
I think I am a really heavy scorer. And my weakness, well, that's my self believe. There I have a problem I have to work at.
Have you got a practice partner? Perhaps practice from time to time with your parents?
From time to time I have one but it's not often enough. I really would like that to happen more often. But I never ever practiced with my parents.
Did your parents give you any advice for practice or did you "design" your own practice?
No, nothing of that kind though of course they support me a lot and help me, travel with me, accompany me.
Did you ever throw a nine darter?
Sometimes in practice only yesterday once again. But till now never in a tournament. I got near it but missed the double 12 for it.
Is fitness for you an essential requirement for a dart player and do you do something for your fitness?
I think fitness is very important. I do some other sports as well, mainly soccer.
Some top players do some mental practice as well. Is this something you are interested in or think important?
I do nothing at all of this kind.
>>
Tournaments and defending the title