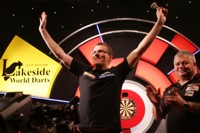 Exklusives
Darts1 Interview
mit Mark Webster
Was it difficult to get back into daily life and to "normal" tournaments?
It was difficult for me, I was not used to such a lot of attention and it somehow put a lot of pressure and expectations on me. I had a problem with this, I couldn't win as much.
Do you feel the other players endeavour more to beat the World Champion or do they still want to beat Mark Webster?
I would say that of course a lot of people like to beat the World Champion. But it's not that all are aware that I am the World Champion. So for them they only want to beat their opponent.
Do you enjoy playing such mixed PDC/BDO tournaments?
Yes, I enjoy that very much.
Are they a bigger challenge for you?
They are, at least for me.
Is it still a problem for you that you went out of the tournament first round last year?
A little bit it still is. That was very annoying. I try my best to do better this year.
As you are not really an experienced player already is it more difficult for you to play televised tournaments?
I am getting used more to it every time when I play in one but it is still very difficult for me. We don't have as much television exposure in the BDO so it's difficult to get used to it.
And do you like playing on stage or do you still feel nervous?
I like that very much. I think in some way we all have to like that, it's part of what we do.
One could say that till now you definitely were more a successful player. How do you put defeat away?
For me it is still something I struggle with. I try to relax as good as possible, perhaps watch TV. And of course to think of the next day, the next match the next tournament.
Would you say you are still a learning player, perhaps didn't even reach your peak?
Of course I am. There is still such a lot I have to learn. For example body language, I really don't master that very good I still give too much away. That's a weakness, something opponents can profit from.
Which darts do you use?
I've got Winmau darts. They designed them for me just as I want them. I like them very much, they are nice.

>>
Practice and fitness