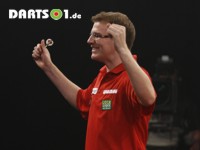 Exklusives
Darts1 Interview
mit Mark Webster
Mark Webster, current BDO world champion, winner of the Canadian Open, Northern Ireland Open, Welsh Classic and Welsh Open, was available for this exclusive interview just before the start of the world championships 2009, thanks a lot.
Mark, you are 25 years old, left-handed, wear glasses and use 20 g darts - are you some kind of BDO James Wade?
No, not really. But it's nice to meet him and to talk to him.
I read you play BDO since 2006; I am sure you started to play darts much earlier. Did you play league then?
I started when I was 18. I then played local league and took part in the Welsh open. I did win that several times in fact.
Do you think playing league is important for a player and does it help for playing tournaments?
Yes I think it is important, it's something all players do. But whether it helps? Playing tournaments is something totally different.
You never were a BDO youth player as James was?
No. I honestly didn't know something like that existed.
What did fascinate you most in darts?
I started watching when I was a child, I always watched the darts. That got me interested in it and I always wanted to do it myself.
What made you decide to join the BDO?
When you start to play county you automatically play BDO. I thought I could become a good player, I wanted that. And then you have to.
Are you a full time professional or do you intend to become one?
I am not at the moment. I still work in my job. But it's something I intend and plan to do in future.
Did the World Champion title change your life?
Yes it did quite a lot. I suddenly was some kind of local hero. I was recognised everywhere. There was a lot of hurly-burly for some weeks.
>>
World champion and challenges