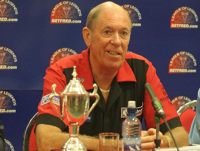 Exclusive
Darts1 interview
with John Lowe
What kind of darts did you play first? And what darts do you play now?
I first played with a set of Unicorn Brass darts, great darts. I progressed on to Tungsten and then Titanium, I have only ever worked with one darts manufacture, Unicorn, I am still with them after 37 years, living proof of how my dart works is the fact that Phil Taylor now uses them.

How old were you when you started to play darts?
I was 21 before I ever threw a dart.
The youth now-a-days has role models like you or Erik Bristow or Phil Taylor, did you have role models yourself and what were the well known names in darts when you were young?
My role models are from other sports, but I did have a great friend and mentor in darts: Barry Twomlow, the man who taught the world to play, Unicorns finest representative and someone everyone could look up to.
How often did you play the News of the World tournament and would you say it is a pity the tournament doesn't exist any more?
The News of the World was a great tournament, it was only best of three legs, and the throw was 8 feet along the floor, many of today's players could not play from this throw, and not many of them would have reached the finals of this fine event.
You were one of the founder members of the PDC and secretary of the later PDPA, what happened that made you decide to leave the BDO?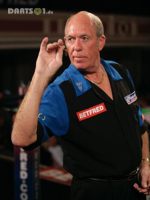 I never thought I would leave the BDO, I was England captain for 7 years, during which time we never lost a match, but they did not promote the game like they should, they stayed very much the same year after year, they got left behind, we needed new events, more prize money, so we broke away from the BDO and formed the World Darts Council, this went on to become the PDC, the PDPA for initially formed in the mid 70's, I later became Chairman and secretary of this association, keeping it going with my own money for 8 years, the PDPA now has over 600 players registered, and it employ's a full time CEO.
And would you say you still think the PDC is a great idea after what happened to you and the other "legends"?
The PDC was, and is a great organisation, it's primary duty is to make money, this in turn gives the players more chance to make money, the spectators have better darts to watch, and the manufactures have more products to sell, this is just simple business.
>>
Practice and travelling