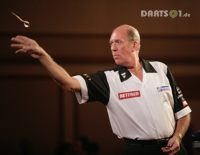 Exclusive
Darts1 interview
with John Lowe
John Lowe, three times champion of the world, two times winner of the World Masters, founder member of the PDC and darts legend, was the first to throw a Nine-Darter on TV and was available for this exclusive interview, thanks a lot.
John, you are a professional darts player now for over 30 years - is it really you did earn your living throughout only with your darts?
I was a carpenter when I left school, I worked in the building trade until 1975, it was then that I turned professional darts player, this has been my livelihood ever since.
Was there a lot of money to be earned with darts in the 1970 and 1980 as well and is huge price money nothing the PDC brought up first?
The prize money in darts in the 70's was not good, but not bad either, the World Masters had a 3000 first prize, the News of the World had 5000 first prize, it may not seem a lot, but we must remember that was over 30 years ago.
Now-a-days everybody says that TV coverage is necessary for a sport to be recognized in the public. But when you were at your peak together with Bristow and George there was not much sport on TV - nevertheless you all were well known. How was that possible?
TV is very important to any sport, in the late 70's, 80's darts was on TV almost every week, all the International games where shown, many with no prize money, just trophy's. We had so much TV that Eric Bristow and myself became household names, we where recognised every time we went out of the house.
What was the first televised tournament you did take part?
My first TV tournament was the Indoor League, a Yorkshire TV event, I then won the World Masters, followed that a few weeks later with the British Open and then the News of the World, I did win 15 major events in a row.
You were the first to throw a Nine-Darter on TV and that earned you a huge bonus. Would you say Nine-darters were less common then?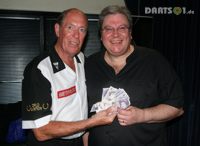 On the 13th October 1984 I did the first televised 9 dart game, it was a huge thing to do, no one else had ever achieved it, and everyone remembers the first, the prize for doing the 9 dart game was also huge: 100,000 + 2000 for doing it on TV, I won the event as well, so I won a total of 115,000. It was many years before the 9 dart game was achieved again, Paul Lim being the second guy to do it, he won 50,000.
Would you say players are better now-a-days? Or is only the equipment better?
Players are scoring more consistently today, but they are not a lot better than Bristow and Lowe, the dart board wiring is a lot thinner, making the double and treble area a lot bigger in size, that is the reason for more 9 dart games.
>>
Darts, role models and legends