| | | | | | | | |
| --- | --- | --- | --- | --- | --- | --- | --- |
| Interview Terry Jenkins | Back | 1 | 2 | 3 | 4 | Forward | |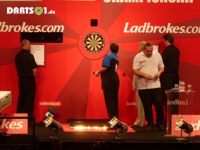 Exclusive
Darts1 interview
with Terry Jenkins
Would you think there are too many tournaments now and too much travelling?
I don't really like to travel far, those journeys to America. But otherwise I don't think it's really too much, not when you have the week off in between the tournaments. It's only too much for me at the moment together with Premier League.
How do you recover from a defeat?
Have a good sleep I don't feel it's too hard to overcome. Of course for the first few minutes. I am angry when I've lost and have played bad darts. But I soon forget it.
You are one of the rare players who produced his own darts, how did that happen?
It's not really me who produced them. I have a friend who always did my darts. And they are just plain tungsten.

What are your goals for this year?
That's a good question. I think it's necessary to have goals and usually I set myself some. Not for the whole year usually, more smaller ones. But this year I didn't manage, I know I should have. But one I certainly have I finally want to do better at the World Championship.
Is it like in other sports that the World Championship is the peak of the year and everybody tries to be at his best then?
It might be for some. I myself till now didn't prepare especially for it. In some way it's only one of the major tournaments. They are all important. Well, the title would be nice but otherwise But I'll prepare better this year as I really want finally to overcome this first round hurdle.
Which would you say from your experience are the factors that most influence your form?
For me it really is Premier League. It's so tiring. And I really feel it's not good for me to have no time for anything else but darts.
How important are fans for you?
For me it has two sides. On one side of course it's great to have support and fans. On the other side fans sometimes bring me to try too hard. It sometimes helps as least me more when it's the opponent who gets the support.