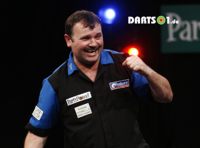 Exclusive
Darts1 interview
with Terry Jenkins
Terry Jenkins, current no. 5 of the world, two times winner of the Antwerp Open and Runner Up of the Premier League, World Grand Prix, World Matchplay and Las Vegas Desert Classic, was available for this exclusive Darts1 interview, thanks a lot.
When and why did you start to play darts?
I think I was around 14. My older brother and his friends often played darts at home and I wanted to join them. I always did win.
Did you have any role models?
Not really. I didn't know much about dart players didn't hear much about them and never did see them play. Erik Bristow that was a very well known person of course. But he was no role model for me. I really didn't know enough for that.
When did you enter the PDC?
I think its six years now. I thought I might get into the top ten as I seemed to get better and better.
And you never played BDO?
Not really. I of course played some open competitions. And I played county. One could say that's BDO. But I never played BDO circuit.
When did you become a full time professional and what was your original profession?
I can't say it was a conscious decision to become professional not that I said one day "now I turn professional". It just happened because I earned more and more price money. I was doing removals, I was very strong. I still do it from time to time but not often now. It's not really good for my darts. And I am not so strong any longer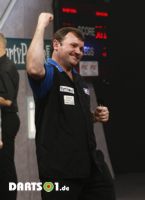 Is it true that you are a better floor player then a stage player?
Well, I would say in the beginning I really was a better floor player. But now I like playing on stage and I reached some finals so it just can't be true any longer.
And what for you is the big difference between both?
There really is a very big difference. It is totally different to play in front of such big crowds though I can't say I felt really nervous or shy up on stage. Nevertheless one has to get used to it.
>>
Premier League & fun