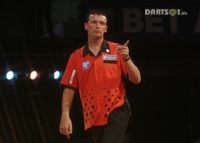 Exclusive
Darts1 interview
with Colin Osborne
I did first see you during a Players Championship on Hayling Island. That must have been not long then after you had started to play PDC and you did throw a nine-darter there.
Oh yes, that was my first one! By now I did throw four in competition! The last one only two weeks ago in a smaller competition.
Do you practice much?
I would say I practice as much as possible.
Alone or with a practice partner?
Almost never alone. Jamie Caven lives just down the road from where I live - we always practice together. That makes it rather hard when I win against him as I did today.
As you are a player of the younger generation would you say You've another approach to practice?
Yes, I think we really have. I would say we've a much more professional approach then the older dart players.
Do you deal with sport psychology or modern practice techniques then?
No, not really. I don't read much about it. But of course on hears about it a lot. I think darts is a pro sport now and one has to treat it like one. And from what I know though I never dealt with it I do exactly the right thing, I block out negative thoughts and think positive. that's what they tell you to do - so I think all by myself I do it the right way.
Can you imagine there will be coaches in darts as in other sports?
Of course I can. I think that's something that comes with professionalism.
What do you think makes a really good successful dart player? Is it hard work or talent or luck?
I don't think luck plays a part in progress. I can't really say what it is - might be it's the ability really to focus. And very important is self-believe - you've to be full of self-believe. But that has nothing to do at all with arrogance!
>>
Winner and world number one