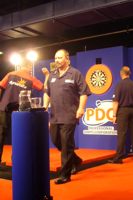 Exclusive
Darts1 interview
with Gary Mawson
And did you then join the PDPA?
Yes I did.
Did you ever think to move to England for good?
I have often thought about it. I may buy a house over there in the future to have a place to base myself out of.
It seems you disappeared some time completely from the PDC circuit, though you had played it with some success. Why?
I basically needed a break. Wanted to stop travelling and take it easy for a while. Needed to find the enjoyment for the game again, which I eventually did.
But you didnīt gave up playing darts totally or was there a time you didnīt play at all?
I always had a board up. Played with friends locally for fun.
And where and what did you play during this time?
Candian tournaments? American tournaments?
Just played at home until I started hitting the American circuit again.
You returned back to the LVDC last year and immediately reached the quarter-finals. Now you started again playing PDC tournaments. What let you change your mind?
I just love to play darts. The PDC is growing and I would like to be a part of it.
You play in America and Canada for a long time now. Do you think darts got more popular or the skill level of the players got up? How would you say it developed in those years?
Darts has gotten more popular. It needs more exposure on television here in the states to really take off. There are a lot of fantastic players in North America. The skill level has gone up. More players are playing for bigger prizes and that is fueling the fire in a lot of players to improve their game.
>>
Darts in the USA