| | | | | | | |
| --- | --- | --- | --- | --- | --- | --- |
| Interview John Part | Back | 1 | 2 | 3 | Forward | |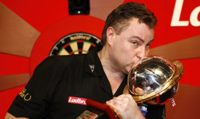 Exclusive
Darts1 interview
with John Part
And would you say nine-darters make a good player or are they more chance?
Of course I've to answer that it is chance haven't I!!! But might be I didn't hit one yet is because I think I am not really interested in doing it. I don't feel I need to do it. I would like back to backs so.
As you are a very routined Player would you say personal problems influence the achievements? Or that one plays better when on is happy?
No, I couldn't say that. I am not sure what influences me, what really makes me play good darts. I couldn't say either that I play better being happy. I doubt it has really an influence at all though being angry helps me to focus.
I remember there once was an incident with a stalker and Phil Taylor and Taylor was influenced by this.
I wouldn't say that was a personal problem, no, not at all. That was dart related there really is a difference!
As you are playing the Grand Slam at the moment: Do you like this mixed BDO/PDC tournaments? Is it something special?
Well, I wouldn't say for me it is special. I play darts and want to win. It's not important who my opponent is whether he is BDO or PDC. It's the same with Anastasia she just is an opponent.
What is your favourite format?
Certainly not this round robin. That I suppose is more a format for the crowd. it's a stupid format, unpredictable, some get on with only one win, some not with two wins, it's not fair. it's not for the players.
With what feelings do you look forward to the World Championship and how do you assess your chances?
I really look forward to it and of course I think I have a chance. I see it like this: Phil Taylor thinks he will win Raymond van Barneveld feels he has to win and I see it more relaxed and don't build up any pressure. I take it step by step. The first round matches often are the worst as you have no idea how good the players will be and some are really good. I am always glad when I've passed the first round.