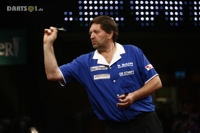 Exclusive
Darts1 Interview
with Denis Ovens
Denis Ovens, quarter finalist of the PDC world championships in 2005, current no. 20. of the PDC Order of Merit, winner of the Irish Masters, Open Holland and Scottish Open, was available for this exclusive Darts1 interview, thanks a lot.
Denis, you are certainly a well-known player and a good player, though you never were really lucky in the major tournaments, do you nevertheless earn your living with playing darts?
Oh no, I never did, I always had a job.
What is your profession then?
I am building houses, yes really, with my own hands. I am a foreman.
What do you think how many players really make a good living from playing darts?
I am not sure, around twenty I would think.
It is not that you can't win tournaments, you did win quite a few, have you any idea why it just doesn't seem to happen in a major tournament?
No, after all those years it is still a secret for me. But I would say I am the most underachieved player in the PDC.
Would you say it's more mental or are others just better than you are?
It could be it's something to do with self doubt, perhaps I don't believe enough that I can win, so it's more mental.
Is it in any way frustrating for you? Or have you even resigned?
You can believe me it is very, very frustrating. But resignation, no, I think I never felt this.
Do you believe every player reaches a point he can't get better anymore (I myself don't believe it only look at Phil Taylor)
No, I of course think one can better and I would say I do as well. Phil Taylor is a good example, even he's able to get better and better.
But nevertheless you've got something a lot of players probably will envy you, your consistency? How do you manage to be so consistent? You never seem to be in a slump
This consistency certainly is something special. I always think it's somehow connected with the fact that I've got a job beside that I really love. Inconsistency certainly is a mental thing. Yes, I think my job gives me the consistency. It gives my head something to do beside darts, I think that's necessary.
>>
Tournaments, switch to the PDC