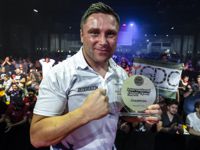 International Darts Open
PDC European Tour 2019
Die International Darts Open war das 12. von insgesamt 13 Turnieren der PDC European Tour.
Sie fanden vom 13. bis 15. September 2019 in der Sachsen-Arena, Riesa, Deutschland, statt.
Gerwyn Price besiegte Simon Whitlock im Finale der International Darts Open 2018 mit 8:3 und gewann damit sein erstes Turnier in diesem Jahr. Price hatte sich zuvor in einem Krimi gegen Steve West durchgesetzt, Whitlock war durch einen klaren 7:2 Erfolg über Danny Noppert in das Endspiel gelangt. James Richardson, Darren Webster, Adrian Lewis und Ryan Searle unterlagen in den Viertelfinals.
Die besten 16 Dartspieler der PDC Pro Tour Rangliste sind automatisch für die Tour qualifiziert und gemäß ihrer Platzierung für die zweite Runde gesetzt, 32 weitere Teilnehmer werden über eine Kombination von Qualifikationsturnieren ermittelt.
Alle Spiele werden auf der Bühne ausgetragen. Die gesetzten Spieler greifen am Samstag, den 30. Juni in das Geschehen ein. Sonntags finden die dritte Runde, die Viertel- und Halbfinale sowie das Finale statt.
Alle Spiele bis zum Viertelfinale werden im Format Best of 11 Legs gespielt, das bedeutet, dass derjenige gewinnt, der zuerst sechs Legs verbuchen kann. Die Professional Darts Corporation gab 2018 für die Halbfinals und das Finale eine Verlängerung der Distanz bekannt. Die Vorschlussrunde wird nun Best of 13 Legs gespielt, das Endspiel im Format Best of 15 Legs.
European Tour 12
International Darts Open Spielplan
Harry Ward
6:4
Reece Robinson
William O'Connor
6:4
Benito van de Pas
Christian Jentschke
3:6
Justin Pipe
Arron Monk
5:6
Kyle Anderson
John Henderson
6:4
Brett Claydon
James Richardson
6:3
Mike Poge
Mickey Mansell
5:6
Danny Noppert
Mike De Decker
4:6
Michael Rosenauer
Richard North
6:5
Boris Koltsov
Daniel Larsson
3:6
Steve West
Ritchie Edhouse
6:2
Davyd Venken
Manfred Bilderl
1:6
Luke Woodhouse
Adam Hunt
3:6
D. Van den Bergh
Andy Boulton
5:6
Steffen Siepmann
Joe Murnan
6:5
Jelle Klaasen
Davy Van Baelen
6:0
Ole Luckow
Nathan Aspinall
6:3
Justin Pipe
Krzysztof Ratajski
3:6
Michael Rosenauer
Glen Durrant
6:3
James Richardson
Rob Cross
6:1
John Henderson
Adrian Lewis
6:4
William O'Connor
Daryl Gurney
6:5
Danny Noppert
Steve Beaton
6:4
Luke Woodhouse
Gerwyn Price
6:4
Kyle Anderson
Ricky Evans
6:4
D. Van den Bergh
Jamie Hughes
3:6
Steve West
Jonny Clayton
6:4
Steffen Siepmann
Jeffrey de Zwaan
3:6
Joe Murnan
Joe Cullen
6:5
Davy Van Baelen
Ian White
5:6
Richard North
Mensur Suljovic
6:0
Harry Ward
Peter Wright
6:4
Ritchie Edhouse
Daryl Gurney
6:5
Steve Beaton
Michael Rosenauer
3:6
Glen Durrant
Nathan Aspinall
6:5
Ricky Evans
Gerwyn Price
6:4
Joe Murnan
Peter Wright
6:3
Mensur Suljovic
Adrian Lewis
6:2
Jonny Clayton
Joe Cullen
0:6
Rob Cross
Richard North
6:5
Steve West


Viertelfinale, Best of 11 Legs
Daryl Gurney
4:6
Glen Durrant
Nathan Aspinall
4:6
Gerwyn Price
Peter Wright
6:0
Adrian Lewis
Rob Cross
6:1
Richard North
Glen Durrant
3:7
Gerwyn Price
Peter Wright
6:7
Rob Cross
2. Runde
Achtelfinale
Viertelfinale
Halbfinale
Best of 11 Legs
Best of 11 Legs
Best of 11 Legs
Best of 13 Legs
6
D.Gurney
5
D.Noppert
6
D.Gurney
6
S.Beaton
5
S.Beaton
4
L.Woodhouse
4
D.Gurney
3
K.Ratajski
6
G.Durrant
6
M.Rosenauer
3
M.Rosenauer
6
G.Durrant
6
G.Durrant
3
J.Richardson
3
G.Durrant
6
N.Aspinall
7
G.Price
3
J.Pipe
6
N.Aspinall
6
R.Evans
5
R.Evans
4
D.V.d.Bergh
4
N.Aspinall
6
G.Price
6
G.Price
4
K.Anderson
6
G.Price
3
J.d.Zwaan
4
J.Murnan
6
J.Murnan
6
P.Wright
4
R.Edhouse
6
P.Wright
6
M.Suljovic
3
M.Suljovic
0
H.Ward
6
P.Wright
6
A.Lewis
0
A.Lewis
4
W.O'Connor
6
A.Lewis
6
J.Clayton
2
J.Clayton
4
S.Siepmann
6
P.Wright
6
J.Cullen
7
R.Cross
5
D.V.Baelen
0
J.Cullen
6
R.Cross
6
R.Cross
1
J.Henderson
6
R.Cross
5
I.White
1
R.North
6
R.North
6
R.North
3
J.Hughes
5
S.West
6
S.West
Finale
Best of 15 Legs
Gerwyn Price
8:6
Rob Cross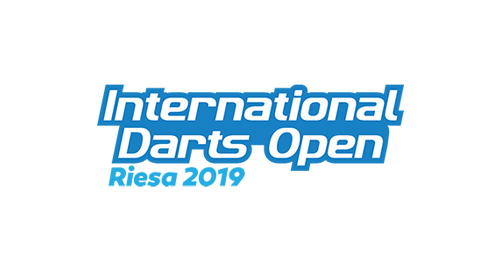 Preisgelder der International Darts Open
| | |
| --- | --- |
| Sieger | 25.000 £ |
| Finalist | 10.000 £ |
| Halbfinale | 6.500 £ |
| Viertelfinale | 5.000 £ |
| Letzte 16 | 3.000 £ |
| Letzte 32 | 2.000 £ |
| Letzte 64 | 1.000 £ |
| Gesamt | 140.000 £ |
▶ International Darts Open 2023 · 2022 · 2020 · 2019 · 2018 · 2017 · 2016 · 2015
▶ International Darts Open Statistiken (PDF, 940 kB)
▶ European Tour 2023 · 2022 · 2021 · 2020 · 2019 · 2018 · 2017 · 2016 · 2015 · 2014 · 2013 · 2012