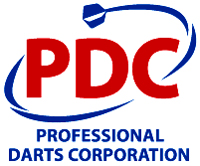 Challenge Tour
Order of Merit 2015
Bei der Challenge Tour handelt es sich um die Nachwuchsserie der Professional Darts Corporation (PDC). Teilnahmeberechtigt sind alle Dartspieler zwischen 16 und 21 Jahren, die sich nicht unter den besten 64 der Weltrangliste, dem PDC Order of Merit, befinden.
Die beiden Führenden der Rangliste, dem Challenge Tour Order of Merit, erhalten nach Abschluss der Saison eine Tour Card, die für zwei Jahre gültig ist. Die Plätze drei bis acht können kostenlos an der folgenden PDC Qualifying School teilnehmen.
Zusätzlich steht dem Spitzenreiter ein Startplatz in der Vorrunde der PDC WM zu.
2011 fand die Junioren Serie der PDC erstmals statt, damals wurde das Alter der Teilnehmer auf 14 bis 21 Jahre festgesetzt. 2013 wurde die Youth Tour zunächst in Challenge Tour umbenannt und die Altersgrenze auf 25 Jahre angehoben. 2014 fanden eine separate Youth und Challenge Tour statt. Sie wurden gemeinsam als Development Tour bezeichnet und hielten ein Gesamtpreisgeld von 280.000 £ bereit.
2015 gab es erneut einen Wechsel in der Namensgebung. Die Youth Tour wurde zur Challenge Tour und die Challenge Tour wurde zur Development Tour. Es finden insgesamt 16 Wettbewerbe an vier Wochenenden statt.
Endstand 21. September 2015
| | | |
| --- | --- | --- |
| Aktuelle Position | Name | Preisgeld |
| 1 | Dekker, Jan | £7,350 |
| 1 | Corner, Richie | £7,350 |
| 3 | Griffiths, Shaun | £5,600 |
| 4 | Quantock, Chris | £4,650 |
| 5 | Shepherd, Kirk | £4,350 |
| 6 | Murnan, Joe | £4,250 |
| 7 | Hudson, Peter | £3,800 |
| 7 | Reynolds, Dean | £3,800 |
| 9 | Clark, Matt | £3,350 |
| 10 | Dale, Scott | £2,700 |
| 10 | Fowler, Colin | £2,700 |
| 12 | Lukeman, Martin | £2,550 |
| 12 | Tweddell, Jack | £2,550 |
| 14 | Searle, Ryan | £2,450 |
| 15 | Jukes, Jon | £2,350 |
| 16 | Palmer, Ryan | £2,250 |
| 16 | Norton, Mike | £2,250 |
| 18 | Maish, Steve | £2,000 |
| 19 | Evans, Lee | £1,800 |
| 19 | Foreman, Jay | £1,800 |
| 19 | Parry, Kurt | £1,800 |
| 22 | Roy, Alex | £1,750 |
| 23 | Lever, Ian | £1,700 |
| 24 | Sudale, Ricky | £1,550 |
| 24 | Barnard, Michael | £1,550 |
| 24 | Randell, Tony | £1,550 |
| 27 | Harrington, Ryan | £1,450 |
| 28 | Hamilton, Sam | £1,400 |
| 29 | De Decker, Mike | £1,350 |
| 29 | Kirk, Aden | £1,350 |
| 29 | Walters, Ian | £1,350 |
| 29 | Alcinas, Antonio | £1,350 |
| 33 | Rowley, Paul | £1,300 |
| 33 | Pinhorne, Danny | £1,300 |
| 33 | Merchant, Karl | £1,300 |
| 33 | Worsley, Jonathan | £1,300 |
| 33 | Hylton, Mark | £1,300 |
| 38 | Thomas, Kevin | £1,250 |
| 38 | Aubrey, Chris | £1,250 |
| 40 | Richardson, James | £1,200 |
| 41 | Hubbard, James | £1,150 |
| 42 | Lovett, Stephen | £1,100 |
| 42 | Preston, Simon | £1,100 |
| 44 | Ward, Harry | £1,050 |
| 45 | Marriott, Jason | £1,000 |
| 45 | Weaver, Darren | £1,000 |
| 45 | Harding, Stuart | £1,000 |
| 45 | Hayman, Antony | £1,000 |
| 45 | Mitchell, Peter | £1,000 |
| 50 | Coughlin, Paul | £950 |
| 50 | Gallimore, Stephen | £950 |
| 50 | Brown, Darron | £950 |
| 50 | McFarlane, Ian | £950 |
| 54 | Hogan, Paul | £900 |
| 54 | Fullwell, Nick | £900 |
| 54 | Lincoln, Tony | £900 |
| 54 | Woodhouse, Luke | £900 |
| 54 | Turner, Aaron | £900 |
| 59 | Hartrey, Chris | £850 |
| 59 | Dennant, Matthew | £850 |
| 59 | Welding, James | £850 |
| 62 | Thomas, Wayne | £800 |
| 62 | Smith, Damian | £800 |
| 64 | Russell, Dan | £750 |
| 64 | Burton, Ben | £750 |
| 64 | Milburn, Philip | £750 |
| 64 | Harwood, Will | £750 |
| 68 | Huckvale, Adam | £700 |
| 68 | Airey, David | £700 |
| 68 | Turner, Martyn | £700 |
| 68 | Howson, Richie | £700 |
| 68 | Lawrence, Mark | £700 |
| 73 | Stevenson, Simon | £650 |
| 73 | Simpson, Ben | £650 |
| 73 | Birch, Nigel | £650 |
| 73 | Carter, Mark | £650 |
| 73 | Hawkes, Ryan | £650 |
| 73 | de Vreede, Ryan | £650 |
| 73 | Burgoine, Michael | £650 |
| 80 | Dootson, Eddie | £600 |
| 80 | Forman, Mark | £600 |
| 80 | Spedding, Garry | £600 |
| 83 | Beal, Michael | £550 |
| 83 | Pepper, Wayne | £550 |
| 83 | Place, Dave | £550 |
| 83 | Johnson, Andrew | £550 |
| 83 | Calvert, Richard | £550 |
| 83 | Day, Daniel | £550 |
| 89 | Thomas, Martin | £500 |
| 89 | Williams, Ricky | £500 |
| 89 | Symes, Mike | £500 |
| 89 | Parker, Robert | £500 |
| 93 | Sheppard, Vernon | £450 |
| 93 | Honey, Dave | £450 |
| 93 | Walton, John | £450 |
| 93 | Rodriguez, Roxy-James | £450 |
| 93 | Crossley, John | £450 |
| 93 | Quantock, John | £450 |
| 93 | Burkhill, Trevor | £450 |
| 93 | Lacey, Joe | £450 |
| 101 | Portela, Diogo | £400 |
| 101 | Nagi, Coni Singh | £400 |
| 101 | Dewsbury, Marc | £400 |
| 101 | Golding, Matthew | £400 |
| 101 | Hajimena, Andreas | £400 |
| 101 | Grubb, Steve | £400 |
| 101 | Landon, Jamie | £400 |
| 101 | Roach, Terry | £400 |
| 101 | Palfreyman, Joey | £400 |
| 101 | van Duijvenbode, Dirk | £400 |
| 101 | Borthwick, Philip | £400 |
| 112 | Bambrick, Kevin | £350 |
| 113 | Claydon, Brett | £300 |
| 113 | Bates, Barrie | £300 |
| 113 | Littlecott, Colin | £300 |
| 113 | Fairhurst, BJ | £300 |
| 113 | Amos, Paul | £300 |
| 113 | Baxter, Craig | £300 |
| 113 | Smith-Neale, Adam | £300 |
| 113 | Scott, John | £300 |
| 113 | Dowling, Kevin | £300 |
| 122 | Skeates, Chris | £250 |
| 122 | Power, Michael | £250 |
| 122 | Reilly, Michael | £250 |
| 122 | Baynham, Michael | £250 |
| 122 | Hill, Jack | £250 |
| 122 | Hannaway, Paul | £250 |
| 122 | Miles, Gary | £250 |
| 129 | Batham, Jeff | £200 |
| 129 | Harding, Ricky | £200 |
| 129 | Newland, John | £200 |
| 129 | Read, Dan | £200 |
| 129 | Pearson, Andy | £200 |
| 129 | Guilfoyle, Jamie | £200 |
| 129 | Oak, Tony | £200 |
| 129 | Meulenkamp, Ron | £200 |
| 129 | Pearce, Andy | £200 |
| 129 | Jones, Jake | £200 |
| 129 | Pinder, Robert | £200 |
| 129 | Turner, Robbie | £200 |
| 129 | Whittingham, Darren | £200 |
| 129 | de Geus, Leon | £200 |
| 129 | Lynn, Andy | £200 |
| 144 | Stubbs, Stuart | £150 |
| 144 | Kitchen, Daren | £150 |
| 144 | Parsons, Ross | £150 |
| 144 | Thompson, James | £150 |
| 144 | Smith, Fred | £150 |
| 144 | Parsons, Glen | £150 |
| 144 | Ellam, Jamie | £150 |
| 144 | Evans, Kieran | £150 |
| 144 | Forrington, Karl | £150 |
| 144 | Hyslop, Ewan | £150 |
| 144 | Hoggarth, Ryan | £150 |
| 144 | Goldie, John | £150 |
| 144 | Vos, Gino | £150 |
| 144 | Robinson, Mark | £150 |
| 144 | Howarth, Andrew | £150 |
| 159 | Cassidy, Simon | £100 |
| 159 | Dale, Christopher | £100 |
| 159 | Ryan, Sean | £100 |
| 159 | Power, John | £100 |
| 159 | Manzie, Alan | £100 |
| 159 | Mawer, Darren | £100 |
| 159 | Smith, Daniel | £100 |
| 159 | Bradley, Tony | £100 |
| 159 | Lewer, Dean | £100 |
| 159 | Sandon-James, Ashley | £100 |
| 159 | Davies, Ben | £100 |
| 159 | Birkett, Simon | £100 |
| 159 | Hart, Kelvin | £100 |
| 159 | Nelson,.John | £100 |
| 159 | Kennedy, Luke | £100 |
| 159 | Jones, Mark | £100 |
| 159 | Moffatt, Lee | £100 |
| 159 | Goldie, Matt | £100 |
| 159 | Papworth, Tim | £100 |
| 159 | Randall, Dai | £100 |
| 159 | Mann, John | £100 |
| 159 | Michels, Mareno | £100 |
| 159 | Roelofs, Colin | £100 |
| 159 | Stein, Sascha | £100 |
| 159 | Cooper, Chris | £100 |
| 159 | Elms, Richard | £100 |
| 185 | Barlow, Shaun | £50 |
| 185 | Bradshaw, Justin | £50 |
| 185 | Ludlow, Richard | £50 |
| 185 | Middleton, Krit | £50 |
| 185 | North, Richard | £50 |
| 185 | Greenall, Kenneth | £50 |
| 185 | Monaghhan, Stuart | £50 |
| 185 | Rabadia, Rohit | £50 |
| 185 | Sykes, Thomas | £50 |
| 185 | Duffy, Rory | £50 |
| 185 | Carrett, Stephen | £50 |
| 185 | Cole, Tony | £50 |
| 185 | Patterson, Jordan | £50 |
| 185 | Lane, Kevin | £50 |
| 185 | Bryan, John | £50 |
| 185 | Kinzett, Rod | £50 |
| 185 | Layden, Darren | £50 |
| 185 | Lewis, Brian | £50 |
| 185 | Wilson, Matthew | £50 |
| 185 | Collins, Steve | £50 |
| 185 | Moorhouse, Carl | £50 |
| 185 | Stell, Oliver | £50 |
PDC Challenge Tour Sieger 2015
| | | |
| --- | --- | --- |
| Datum | Turnier | Sieger |
| 21.03.2015 | PDC Challenge Tour 1 | Kirk Shepherd |
| 21.03.2015 | PDC Challenge Tour 2 | Colin Fowler |
| 22.03.2015 | PDC Challenge Tour 3 | Shaun Griffiths |
| 22.03.2015 | PDC Challenge Tour 4 | Richie Corner |
| 30.05.2015 | PDC Challenge Tour 5 | Jan Dekker |
| 30.05.2015 | PDC Challenge Tour 6 | Matt Clark |
| 31.05.2015 | PDC Challenge Tour 7 | Shaun Griffiths |
| 31.05.2015 | PDC Challenge Tour 8 | Joe Murnan |
| 11.07.2015 | PDC Challenge Tour 9 | Jan Dekker |
| 11.07.2015 | PDC Challenge Tour 10 | Joe Murnan |
| 12.07.2015 | PDC Challenge Tour 11 | Richard Corner |
| 12.07.2015 | PDC Challenge Tour 12 | Dean Reynolds |
| 19.09.2015 | PDC Challenge Tour 13 | Chris Quantock |
| 19.09.2015 | PDC Challenge Tour 14 | Peter Hudson |
| 20.09.2015 | PDC Challenge Tour 15 | Jan Dekker |
| 20.09.2015 | PDC Challenge Tour 16 | Martin Lukeman |
▶ Challenge Tour 2019 · 2018 · 2017 · 2016 · 2015 · ▶ Youth Tour 2014