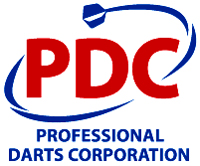 Challenge Tour
Order of Merit 2014
Die Challenge Tour der Professional Darts Corporation (PDC) findet in der heutigen Form seit 2014 statt. Teilnahmeberechtigt sind alle Mitglieder der Professional Dart Player Association (PDPA), die keine Tour Card besitzen.
Die beiden Führenden der Rangliste, dem Challenge Tour Order of Merit, erhalten nach Abschluss der Saison eine Tour Card, die für zwei Jahre gültig ist. Die Plätze drei bis acht können kostenlos an der folgenden PDC Qualifying School teilnehmen.
2011 startete die PDC die Youth Tour für Dartspieler im Alter von 14 bis 21 Jahren. 2013 wurde sie in Challenge Tour umbenannt und die Altersgrenze auf 25 erweitert. Ab 2014 finden die Youth und Challenge Tour unabhängig voneinander statt. Sie werden jedoch gemeinsam als PDC Development Tour bezeichnet. 2014 beträgt das Gesamtpreisgeld der Development Tour 280.000 £. Es werden jeweils 16 Turniere für beide Serien veranstaltet.
Endstand 7. November 2014
| | | | |
| --- | --- | --- | --- |
| Position | Name | Events | Preisgeld |
| 1 | Frost,Mark | 12 | £9,150 |
| 2 | Tabern,Alan | 11 | £8,350 |
| 3 | Fowler,Colin | 15 | £8,050 |
| 4 | Edgar,Matthew | 14 | £5,150 |
| 5 | Robinson,Jamie | 15 | £5,000 |
| 6 | Clark,Matt | 12 | £4,550 |
| 7 | Roy,Alex | 11 | £3,800 |
| 8 | Douglas,Steve | 11 | £3,650 |
| 9 | van Duijvenbode,Dirk | 10 | £3,450 |
| 10 | Foreman,Jay | 11 | £3,450 |
| 11 | Meulenkamp,Ron | 11 | £3,100 |
| 12 | Claydon,Brett | 9 | £2,800 |
| 13 | Pinhorne,Danny | 12 | £2,650 |
| 14 | Jiwa,Prakash | 14 | £2,550 |
| 15 | Wilson,Jason | 14 | £2,400 |
| 16 | Woodhouse,Luke | 12 | £2,350 |
| 17 | Kirk,Aden | 11 | £2,200 |
| 18 | Lacey,Joe | 12 | £2,150 |
| 19 | McFarlane,Ian | 9 | £2,150 |
| 20 | Hopp,Max | 9 | £2,050 |
| 21 | Fullwell,Nick | 13 | £1,950 |
| 22 | Honey,Dave | 8 | £1,950 |
| 23 | MacKenzie,Scott | 8 | £1,900 |
| 24 | Lawrence,Mark | 9 | £1,850 |
| 25 | Thomas,Kevin | 12 | £1,800 |
| 26 | Beal,Michael | 12 | £1,650 |
| 27 | Jones,Mark | 12 | £1,550 |
| 28 | Burgoine,Michael | 9 | £1,500 |
| 29 | Derry,Nathan | 12 | £1,500 |
| 30 | Robinson,Reece | 11 | £1,500 |
| 31 | Thompson,Doug | 12 | £1,450 |
| 32 | Spedding,Garry | 8 | £1,450 |
| 33 | Rowley,Paul | 11 | £1,350 |
| 34 | Hylton,Mark | 10 | £1,350 |
| 35 | Merchant,Karl | 12 | £1,300 |
| 36 | Griffiths,Shaun | 10 | £1,300 |
| 37 | Burkhill,Trevor | 12 | £1,250 |
| 38 | Weaver,Darren | 12 | £1,200 |
| 39 | Howarth,Andrew | 8 | £1,150 |
| 40 | Roach,Terry | 9 | £1,100 |
| 41 | Martin,Tim | 7 | £1,100 |
| 42 | Howson,Ritchie | 8 | £1,100 |
| 43 | Pepper,Wayne | 3 | £1,050 |
| 44 | Copley,David | 9 | £1,000 |
| 44 | Dennant,Matthew | 12 | £1,000 |
| 44 | Parry,Kurt | 11 | £1,000 |
| 47 | Goldie,John | 5 | £950 |
| 48 | Bousfield,Stuart | 6 | £900 |
| 48 | Dicken,Matthew | 10 | £900 |
| 48 | Nott,Mike | 7 | £900 |
| 48 | Palmer,Ryan | 10 | £900 |
| 48 | Redfern,Paul | 8 | £900 |
| 48 | Stell,Oliver | 7 | £900 |
| 54 | Cousins,Gaz | 10 | £850 |
| 54 | Forman,Mark | 7 | £850 |
| 54 | Harrington,Ryan | 11 | £850 |
| 54 | Songhurst,Ben | 6 | £850 |
| 58 | Brown,Darron | 6 | £800 |
| 58 | Crossley,John | 10 | £800 |
| 58 | Gemmell,Jamie | 6 | £800 |
| 58 | Hammond,Curtis | 10 | £800 |
| 58 | Parker,Robbie | 7 | £800 |
| 63 | Brammeld,John | 7 | £750 |
| 63 | Landon,Jamie | 10 | £750 |
| 65 | Place,David | 8 | £700 |
| 65 | van den Bergh,Dimitri | 8 | £700 |
| 67 | Burgess,John | 6 | £650 |
| 67 | Esteve,Jaron | 6 | £650 |
| 67 | Weston,Dave | 6 | £650 |
| 70 | Jukes,John | 7 | £600 |
| 70 | Lynn,Barry | 3 | £600 |
| 70 | Scott,John | 9 | £600 |
| 70 | Summers,Danny | 6 | £600 |
| 74 | Carter,Paul | 7 | £550 |
| 74 | Hill,Jack | 7 | £550 |
| 74 | Hyslop,Ewan | 5 | £550 |
| 74 | Turner,Robert | 5 | £550 |
| 78 | Birch,Nigel | 8 | £500 |
| 78 | Smith- Neale,Adam | 5 | £500 |
| 80 | Hamilton,Sam | 4 | £450 |
| 80 | Hill,Sam | 7 | £450 |
| 80 | Holden,Stuart | 7 | £450 |
| 80 | Pearce,Andy | 3 | £450 |
| 80 | Sheppard,Vernon | 6 | £450 |
| 80 | Sudale,Ricky | 3 | £450 |
| 80 | Symes,Michael | 6 | £450 |
| 87 | Denis,Richard | 3 | £400 |
| 87 | Evans,Steve | 3 | £400 |
| 87 | Gallimore,Stephen | 6 | £400 |
| 87 | Lane,Kevin | 6 | £400 |
| 87 | McNally,Steve | 5 | £400 |
| 87 | Milburn,Philip | 3 | £400 |
| 87 | Norton,Mike | 4 | £400 |
| 87 | Tweddell,Jack | 7 | £400 |
| 95 | Bambrick,Kevin | 3 | £350 |
| 95 | Bates,Barrie | 6 | £350 |
| 95 | Dean,Dan | 5 | £350 |
| 95 | Lever,Ian | 4 | £350 |
| 95 | Lippett,Steven | 3 | £350 |
| 95 | Middleton,Krit | 7 | £350 |
| 95 | Moffat,Lee | 6 | £350 |
| 95 | Narain,Shaun | 5 | £350 |
| 95 | Pearson,Andy | 6 | £350 |
| 95 | Richardson,Tony | 6 | £350 |
| 95 | Whitworth,Lee | 4 | £350 |
| 106 | Bagley,Curtis | 2 | £300 |
| 106 | Bevan,James | 5 | £300 |
| 106 | Holden.Lee | 5 | £300 |
| 106 | Ludlow,Richard | 5 | £300 |
| 106 | Maish,Steve | 4 | £300 |
| 106 | Palmer,Paul | 6 | £300 |
| 112 | Ansell,Frankie | 5 | £250 |
| 112 | Blake,Michael | 5 | £250 |
| 112 | Palfreyman,Lee | 2 | £250 |
| 112 | Read,Dan | 4 | £250 |
| 112 | van Orsouw,Hermie | 2 | £250 |
| 117 | Day,Daniel | 1 | £200 |
| 117 | Edwards,Shane | 3 | £200 |
| 117 | Gaiter,Ben | 3 | £200 |
| 117 | Johnson,Andrew | 3 | £200 |
| 117 | Littler,Shaun | 3 | £200 |
| 117 | Tipple,Vince | 4 | £200 |
| 117 | van Dijk,Dick | 1 | £200 |
| 117 | Waterworth,Michael | 2 | £200 |
| 125 | Bloor,Nicholas | 2 | £150 |
| 125 | Burksfield,Darren | 3 | £150 |
| 125 | Cassidy,Simon | 3 | £150 |
| 125 | Cupitt,Steven | 2 | £150 |
| 125 | Eastwood,Gary | 2 | £150 |
| 125 | Fox,Liam | 2 | £150 |
| 125 | Jodrill,Mark | 2 | £150 |
| 125 | Johnson,Scott | 2 | £150 |
| 125 | Mawer,Darren | 3 | £150 |
| 125 | Stephenson,Mark | 2 | £150 |
| 125 | Stubbs,Stuart | 3 | £150 |
| 125 | Thomas,Wayne | 2 | £150 |
| 125 | Winpenny,Richard | 2 | £150 |
| 138 | Burt,Simon | 2 | £100 |
| 138 | Carvil,Martin | 1 | £100 |
| 138 | Davies,Ben | 2 | £100 |
| 138 | Dunn,Wayne | 1 | £100 |
| 138 | Frost,Trevor | 1 | £100 |
| 138 | Harsant,Paul | 1 | £100 |
| 138 | Heath,Geoff | 2 | £100 |
| 138 | Henshaw,Phil | 2 | £100 |
| 138 | Homer,Martin | 2 | £100 |
| 138 | Hudson,Scott | 2 | £100 |
| 138 | Johnston,Jordan | 2 | £100 |
| 138 | Kelly,Dave | 2 | £100 |
| 138 | McGurn,Lewis | 2 | £100 |
| 138 | Patchett,Jake | 2 | £100 |
| 138 | Perkins,Steve | 2 | £100 |
| 138 | Roith,Bernd | 1 | £100 |
| 138 | Rose,Lee | 1 | £100 |
| 138 | Wagner,Robert | 1 | £100 |
| 138 | Wathen,Phil | 2 | £100 |
| 138 | Whelan,Maurice | 2 | £100 |
| 138 | Williams,Darren | 2 | £100 |
| 138 | Wilson,Mark | 2 | £100 |
| 138 | Worsley,Jonathan | 2 | £100 |
| 161 | Anthony,Paul | 1 | £50 |
| 161 | Batham,Jeff | 1 | £50 |
| 161 | Bowley,Martin | 1 | £50 |
| 161 | Bushby,Mick | 1 | £50 |
| 161 | Evison,Peter | 1 | £50 |
| 161 | Ferrell,John | 1 | £50 |
| 161 | Fuller,Robert | 1 | £50 |
| 161 | Gray,Adrian | 1 | £50 |
| 161 | Hall,Rees | 1 | £50 |
| 161 | Halls,Andrew | 1 | £50 |
| 161 | Herrington,Ryan | 1 | £50 |
| 161 | Hunter,Lee | 1 | £50 |
| 161 | Lowe,Roy | 1 | £50 |
| 161 | Manley,Peter | 1 | £50 |
| 161 | Newland,John | 1 | £50 |
| 161 | Osmotherley, Paul | 1 | £50 |
| 161 | Paenen,Nick | 1 | £50 |
| 161 | Richards,Nathan | 1 | £50 |
| 161 | Roberts,Neville | 1 | £50 |
| 161 | Ryan,Sean | 1 | £50 |
| 161 | Sherwood,Damien | 1 | £50 |
| 161 | Smallshaw,Malcolm | 1 | £50 |
| 161 | Sparrow,Carl | 1 | £50 |
| 161 | Spearing,Glenn | 1 | £50 |
| 161 | Tabern Jnr,Alan | 1 | £50 |
| 161 | Thomas,Sion | 1 | £50 |
| 161 | Tyler,Barry | 1 | £50 |
| 161 | Whittingham,Darren | 1 | £50 |
PDC Challenge Tour Sieger 2014
| | | |
| --- | --- | --- |
| Datum | Turnier | Spieler |
| 02.03.2014 | PDC Challenge Tour 1 | Jamie Robinson |
| 02.03.2014 | PDC Challenge Tour 2 | Ron Meulenkamp |
| 30.03.2014 | PDC Challenge Tour 3 | Alan Tabern |
| 06.04.2014 | PDC Challenge Tour 4 | Matt Edgar |
| 27.04.2014 | PDC Challenge Tour 5 | Colin Fowler |
| 27.04.2014 | PDC Challenge Tour 6 | Colin Fowler |
| 18.05.2014 | PDC Challenge Tour 7 | Alex Roy |
| 18.05.2014 | PDC Challenge Tour 8 | Alan Tabern |
| 01.06.2014 | PDC Challenge Tour 9 | Alan Tabern |
| 01.06.2014 | PDC Challenge Tour 10 | Jay Foreman |
| 06.07.2014 | PDC Challenge Tour 11 | Mark Frost |
| 06.07.2014 | PDC Challenge Tour 12 | Brett Claydon |
| 28.09.2014 | PDC Challenge Tour 13 | Mark Frost |
| 28.09.2014 | PDC Challenge Tour 14 | Mark Frost |
| 09.11.2014 | PDC Challenge Tour 15 | Colin Fowler |
| 09.11.2014 | PDC Challenge Tour 16 | Matt Clark |
▶ Challenge Tour 2020 · 2019 · 2018 · 2017 · 2016 · 2015 · ▶ Youth Tour 2014