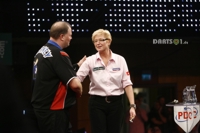 Exclusive
Darts1 interview
with Francisca Hoenselaar
Francisca Hoenselaar, current world champion and one of the most successful female darts player of all time, was available for this exclusive Darts1 interview, thanks a lot.
Frances you are a sporting woman, is darts for you a sport as well?
Yes, of course.
And how would define a sport and what sporting criterions darts has got?
You have to be fit, you have to be able to focus, you have to be motivated, you have to be mentally strong. It is really true, one is exhausted afterwards. It draws your mental strength.
You are a player who started playing before the darts boom aroused by Raymond van Barneveld in Holland, what did darts look like there when you started and how got you involved in the sport?
My brother had got a board he did hang up in the landing and then he told me what one had to do and how to throw and that one had to finish in 15 darts. So when I first went to the pub I was rather astonished to find out 15 Darts was quite a high level
Were there many women then playing darts in Holland?
Yes, there were a lot around but not on the international level.
And how looks the dart scene now-a-days, one often hears darts in Holland is in some kind of a crisis?
It is very difficult without any TV exposure. And it is not much in the press any longer either. How can new people be drawn into darts without that?
There are quite a lot of talented young male players in Holland, what about the female players?
We have got some very talented good female players too. They learn very fast and we build them up. You have to do that, there really is a lot for them to learn. Only look at the young male players like Klassen and van Gerwen, they were more or less thrown into the cold water and had no time to learn it is very difficult for them now.
For long years you and Trina Gulliver dominated the sport, are you rivals or friends by now?
Oh, we are very close friends, really close. We are always in contact, talk about everything, and celebrate together. It's such a pity I can't be with her for her 40. birthday, I have to play a tournament.
>>
Ladies darts and the Grand Slam