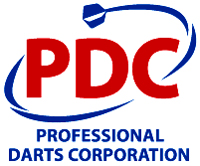 Development Tour
Order of Merit 2018
Bei der Development Tour handelt es sich um die Nachwuchsserie der Professional Darts Corporation (PDC). Teilnahmeberechtigt sind alle Dartspieler zwischen 16 und 23 Jahren.
Die beiden Führenden der Rangliste, dem Development Tour Order of Merit, erhalten nach Abschluss der Saison eine Tour Card, die für zwei Jahre gültig ist. Die Plätze drei bis acht können kostenlos an der folgenden PDC Qualifying School teilnehmen.
2011 fand die Junioren Serie der PDC erstmals statt, damals wurde das Alter der Teilnehmer auf 14 bis 21 Jahre festgesetzt. 2013 wurde die Youth Tour zunächst in Challenge Tour umbenannt und die Altersgrenze auf 25 Jahre angehoben. 2014 fanden eine separate Youth und Challenge Tour statt. Sie wurden gemeinsam als Development Tour bezeichnet und hielten ein Gesamtpreisgeld von 280.000 £ bereit.
2015 gab es erneut einen Wechsel in der Namensgebung. Die Youth Tour wurde zur Challenge Tour und die Challenge Tour wurde zur Development Tour. 2016 war die Verwirrung komplett, als die PDC die Challenge Tour in Development Tour und die Development Tour in Challenge Tour umbenannte. Es finden insgesamt 20 Wettbewerbe an fünf Wochenenden statt.
Auf der PDC Unicorn Development Tour wurden diesmal 190.000 £ an Preisgeld ausgeschüttet. Hinzu kamen 50.000 £, die bei der Junioren Weltmeisterschaft vergeben wurden. Macht ein Gesamtpreisgeld von 240.000 £ für den Darts-Nachwuchs.
Endstand 5. November 2018
| | | |
| --- | --- | --- |
| Aktuelle Position | Name | Preisgeld |
| 1 | Luke Humphries | £8,000 |
| 2 | Dimitri Van den Bergh | £8,000 |
| 3 | Ted Evetts | £7,800 |
| 4 | Geert Nentjes | £6,350 |
| 5 | Martin Schindler | £5,950 |
| 6 | George Killington | £5,300 |
| 7 | Rowby-John Rodriguez | £5,200 |
| 8 | Ryan Meikle | £4,450 |
| 9 | Niels Zonneveld | £4,400 |
| 10 | Christian Bunse | £4,350 |
| 11 | Jarred Cole | £4,150 |
| 12 | Nathan Rafferty | £3,750 |
| 13 | Berry van Peer | £3,650 |
| 14 | Kenny Neyens | £3,400 |
| 15 | Rob Hewson | £3,300 |
| 16 | Wessel Nijman | £3,300 |
| 17 | Bradley Brooks | £3,000 |
| 18 | Jimmy Hendriks | £2,800 |
| 19 | Dawson Murschell | £2,800 |
| 20 | George Gardner | £2,650 |
| 21 | Bradley Kirk | £2,400 |
| 22 | Justin van Tergouw | £2,400 |
| 23 | Mike De Decker | £2,350 |
| 24 | Rhys Griffin | £2,350 |
| 25 | Tommy Wilson | £2,250 |
| 26 | Rusty-Jake Rodriguez | £2,100 |
| 27 | Lee Budgen | £2,100 |
| 28 | Rhys Hayden | £2,050 |
| 29 | Brian Raman | £2,000 |
| 30 | Scott Dale | £2,000 |
| 31 | Melvin de Fijter | £2,000 |
| 32 | Joe Davis | £2,000 |
| 33 | William Borland | £1,900 |
| 34 | Josh McCarthy | £1,900 |
| 35 | Callan Rydz | £1,800 |
| 36 | Harry Ward | £1,750 |
| 37 | Danny Van Trijp | £1,700 |
| 38 | Jordan Boyce | £1,700 |
| 39 | Jeffrey de Zwaan | £1,650 |
| 40 | Tom Lonsdale | £1,600 |
| 41 | Shane McGuirk | £1,500 |
| 42 | Lewis Pride | £1,500 |
| 43 | Greg Ritchie | £1,500 |
| 44 | Mike van Duivenbode | £1,350 |
| 45 | Kevin Doets | £1,250 |
| 46 | Nico Blum | £1,250 |
| 47 | Patrick van den Boogaard | £1,200 |
| 48 | Dean Finn | £1,150 |
| 49 | Callum Loose | £1,050 |
| 50 | John Brown | £1,000 |
| 51 | Sven Groen | £1,000 |
| 52 | Mark Baxter | £1,000 |
| 53 | Maikel Verberk | £1,000 |
| 54 | Thomas Lovely | £950 |
| 55 | Carl Batchelor | £950 |
| 56 | Justin Smith | £900 |
| 57 | Hendrik Eggermann | £850 |
| 58 | Jaikob Selby-Rivas | £850 |
| 59 | Dylan Powell | £800 |
| 60 | Scott Jackson | £750 |
| 61 | Christopher Hänsch | £750 |
| 62 | Jakob Kelly | £750 |
| 63 | Fred Box | £700 |
| 64 | Jack Male | £650 |
| 65 | Nico Schlund | £650 |
| 66 | Adam Paxton | £650 |
| 67 | Danny Key | £650 |
| 68 | Conor Mayes | £600 |
| 69 | Keelan Kay | £600 |
| 70 | Sebastian Pohl | £600 |
| 71 | Jack Vincent | £600 |
| 72 | Adam Watson | £600 |
| 73 | Andrew Davidson | £600 |
| 74 | Declan Cox | £600 |
| 75 | Jack Main | £550 |
| 76 | Aaron Holdstock | £550 |
| 77 | Callum Matthews | £550 |
| 78 | Levy Frauenfelder | £550 |
| 79 | Curtis Turner | £550 |
| 80 | Jim Moston | £550 |
| 81 | Owen Maiden | £550 |
| 82 | Sean Johnson | £550 |
| 83 | Daniel Thomas | £550 |
| 84 | Jordan Singh | £500 |
| 85 | Joshua Burksfield | £500 |
| 86 | Adam Atkinson | £500 |
| 87 | Dan Read | £500 |
| 88 | James O'Toole | £500 |
| 89 | Sam Cromwell | £500 |
| 90 | Luis Barberan | £500 |
| 91 | Rory Jolly | £500 |
| 92 | Josh Davies | £450 |
| 93 | Jack Dickinson | £450 |
| 94 | Joshua Richardson | £450 |
| 95 | Reece Colley | £450 |
| 96 | Stephen Rosney | £450 |
| 97 | Ben Cheeseman | £450 |
| 98 | Nicolai Rasmussen | £400 |
| 99 | Lukas Wenig | £400 |
| 100 | Tommy Lishman | £400 |
| 101 | William Thexton | £400 |
| 102 | Jack Kerr | £400 |
| 103 | Kevin Troppmann | £400 |
| 104 | Nicholas Ellis | £400 |
| 105 | Frantisek Humpula | £400 |
| 106 | Cameron Anderson | £400 |
| 107 | James Carroll | £350 |
| 108 | Declan Fishwick | £350 |
| 109 | James Thompson | £350 |
| 110 | Owen Emmett-Bowden | £350 |
| 111 | Ryan O'Connor | £350 |
| 112 | Lennon Cradock | £350 |
| 113 | Lewis Williams | £350 |
| 114 | Daniel Jensen | £300 |
| 115 | Justin Mueller | £300 |
| 116 | Arran Edwards | £300 |
| 117 | Thomas Cromwell | £300 |
| 118 | Liam Hill | £300 |
| 119 | Lars Fransen | £300 |
| 120 | Wesley van Trijp | £300 |
| 121 | Andy Kent | £250 |
| 122 | Matt Smith | £250 |
| 123 | Andy Alker | £250 |
| 124 | Bradley Clark | £250 |
| 125 | Kieran Spurdle | £250 |
| 126 | Jack Tweddell | £250 |
| 127 | Cavan Phillips | £250 |
| 128 | Seppe Giebens | £250 |
| 129 | Robin Beger | £250 |
| 130 | Connor Arberry | £250 |
| 131 | Matthew Shaw | £200 |
| 132 | Shaun Lovett | £200 |
| 133 | Arron Fairweather | £200 |
| 134 | Liam Gallagher | £200 |
| 135 | Connor Scutt | £200 |
| 136 | Viggo van der Kuijl | £200 |
| 137 | Joshua Habgood | £200 |
| 138 | Tom Sawford | £150 |
| 139 | Thomas King | £150 |
| 140 | Bertus Herks | £150 |
| 141 | Cain Unwin | £150 |
| 142 | Kallum Graham | £150 |
| 143 | Josh Clough | £150 |
| 144 | George Hone | £150 |
| 145 | George Collumb Jnr | £150 |
| 146 | Llew J Bevan | £150 |
| 147 | Ben West | £150 |
| 148 | Marc Legant | £150 |
| 149 | Max Hopp | £150 |
| 150 | Joshua Lightowler | £150 |
| 151 | Robbie Lickiss | £150 |
| 152 | William Blackwell | £150 |
| 153 | Sonny Johal | £150 |
| 154 | Dominik Steinmann | £150 |
| 155 | Adam Howard | £150 |
| 156 | Aaron Ayres | £150 |
| 157 | Morgan Smith | £150 |
| 158 | Jordan Inglut | £150 |
| 159 | Alex Jacques | £150 |
| 160 | Luke Colwill | £100 |
| 161 | Joshua Jenkins | £100 |
| 162 | Chester Gardner | £100 |
| 163 | Ronnie Roberts | £100 |
| 164 | Declan Salter | £100 |
| 165 | Kevin Knopf | £100 |
| 166 | Rhys Julian | £100 |
| 167 | David Carr | £100 |
| 168 | Ciaran Teehan | £100 |
| 169 | Jack Fuller | £100 |
| 170 | Jack Seymour | £100 |
| 171 | Ethan Brooks | £100 |
| 172 | Danny Kronenberg | £100 |
| 173 | Jamie Banks | £100 |
| 174 | Sven Hesse | £100 |
| 175 | Robin Hyna | £100 |
| 176 | Daniel Bury | £100 |
| 177 | Joel Walker | £100 |
| 178 | Tadhg Carroll | £100 |
| 179 | Jacob Gwynne | £100 |
| 180 | Anton Salge | £100 |
| 181 | Patrick Hendley Waite | £100 |
| 182 | Kai Haddock | £100 |
| 183 | Kieran Timmins | £100 |
| 184 | Scott Hope | £100 |
| 185 | Robert Adnams | £100 |
| 186 | Peter Allen Jnr | £100 |
| 187 | Luke Humphreys | £100 |
| 188 | Kieran Brignell | £100 |
| 189 | Lucas Richards | £100 |
| 190 | Jeremy Jendrzejewski | £100 |
| 191 | freddie francis | £100 |
| 192 | Shane Davies | £100 |
| 193 | Hywel Manuel | £100 |
| 194 | Jack Faragher | £50 |
| 195 | Philipp Moedritscher | £50 |
| 196 | Peter Fisher | £50 |
| 197 | Joe Twinn | £50 |
| 198 | Joe Singleton | £50 |
| 199 | Liam Fairclough | £50 |
| 200 | James Smith | £50 |
| 201 | Brad Burnett | £50 |
| 202 | Callum Goffin | £50 |
| 203 | Bradley Halls | £50 |
| 204 | Amit Gilitwala | £50 |
| 205 | Shane Reidy | £50 |
| 206 | Jamie Cassidy | £50 |
| 207 | jack kirtland | £50 |
| 208 | Josie Paterson | £50 |
| 209 | Aiden Cope | £50 |
| 210 | Ben Adams | £50 |
| 211 | Kieran Smith | £50 |
| 212 | Frederick Evans | £50 |
| 213 | Chris Pick | £50 |
| 214 | Craig Reeves | £50 |
| 215 | Timo Thomczik | £50 |
| 216 | Joshua Church | £50 |
| 217 | Shaun Devonald | £50 |
| 218 | Tom Blagg | £50 |
| 219 | Jordan Thomas | £50 |
| 220 | Paul Reid | £50 |
| 221 | Job ten Heuvel | £50 |
| 222 | Brad Ellis | £50 |
| 223 | Eren Kilic | £50 |
| 224 | Mikey Rees | £50 |
| 225 | Julian Volmerhaus | £50 |
| 226 | Scott Baillie | £50 |
| 227 | Thomas Callaghan | £50 |
| 228 | Ayden Copson | £50 |
| 229 | Troy Brown | £50 |
| 230 | Shaun Brown | £50 |
| 231 | Rihards Slisans | £50 |
| 232 | Lewis McGuigan | £50 |
| 233 | Kieran Harris | £50 |
| 234 | Daniel Riedel | £50 |
| 235 | Gian Van Veen | £50 |
| 236 | Lukas Weingessl | £50 |
| 237 | Clark Bradley | £50 |
| 238 | Marcus Kirchmann | £50 |
| 239 | Dominik Gruellich | £50 |
| 240 | Matt Sharpe | £50 |
| 241 | Ryan L Jones | £50 |
| 242 | Keaton Haddock | £50 |
| 243 | Josh Langridge | £50 |
| 244 | Kalem Marsh | £50 |
| 245 | Jakob Webster | £50 |
PDC Development Tour Sieger 2018
| | | |
| --- | --- | --- |
| Datum | Turnier | Spieler |
| 14.04.2018 | PDC Development Tour 1 | Nathan Rafferty |
| 14.04.2018 | PDC Development Tour 2 | Wessel Nijman |
| 15.04.2018 | PDC Development Tour 3 | Rob Hewson |
| 15.04.2018 | PDC Development Tour 4 | Niels Zonneveld |
| 26.05.2018 | PDC Development Tour 5 | Rowby-John Rodriguez |
| 26.05.2018 | PDC Development Tour 6 | Kenny Neyens |
| 27.05.2018 | PDC Development Tour 7 | Luke Humphries |
| 27.05.2018 | PDC Development Tour 8 | Ted Evetts |
| 09.06.2018 | PDC Development Tour 9 | Martin Schindler |
| 09.06.2018 | PDC Development Tour 10 | Martin Schindler |
| 10.06.2018 | PDC Development Tour 11 | Ryan Meikle |
| 10.06.2018 | PDC Development Tour 12 | Ted Evetts |
| 22.09.2018 | PDC Development Tour 13 | Luke Humphries |
| 22.09.2018 | PDC Development Tour 14 | George Killington |
| 23.09.2018 | PDC Development Tour 15 | Dimitri Van den Bergh |
| 23.09.2018 | PDC Development Tour 16 | Jarred Cole |
| 03.11.2018 | PDC Development Tour 17 | Luke Humphries |
| 03.11.2018 | PDC Development Tour 18 | Berry van Peer |
| 04.11.2018 | PDC Development Tour 19 | Dimitri Van den Bergh |
| 04.11.2018 | PDC Development Tour 20 | Ted Evetts |
| 25.11.2018 | World Youth Championship | Dimitri Van den Bergh |
Preisgelder der Development Tour
| | |
| --- | --- |
| Sieger | 2.000 £ |
| Finalist | 1.000 £ |
| Halbfinale | 500 £ |
| Viertelfinale | 300 £ |
| Letzte 16 | 200 £ |
| Letzte 32 | 100 £ |
| Letzte 64 | 50 £ |
| Gesamt | 10.000 £ |
Preisgelder der World Youth Championship
| | |
| --- | --- |
| Sieger | 10.000 £ |
| Finalist | 5.000 £ |
| Halbfinale | 2.500 £ |
| Viertelfinale | 1.500 £ |
| Letzte 16 | 1.000 £ |
| Letzte 32 | 500 £ |
| Letzte 64 | 250 £ |
| Gesamt | 50.000 £ |
▶ Development Tour 2020 · 2019 · 2018 · 2017 · 2016 · 2015