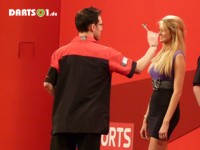 Exclusive
Darts1 interview
with Paul Nicholson
What were your feelings going through the World Championship?
Going through the first round I did expect to win that game against Adrian Gray because of the way I'd been playing. But going up against Adrian Lewis, who was playing very well at the time, I knew would be more difficult. The manner of winning that game is still something I like to talk about and something fans still bring up. Then beating Dennis Priestley was without doubt the biggest win of my life because he was my childhood idol. The respect I gave him both before, during and after the match was justified. Not many people get to play their idol and I'm just happy that I did, in front of millions. The James Wade game I don't talk about much any more because it was a bad night at the office. The emotions I showed at the end of the game were just because I didn't want the experience to end.
Do you think you might perhaps be more a "stage" player then a "floor" player?
I enjoy the stage more than the floor, but to get to the stage you have to be a good floor player, and that's something I'm gradually getting better at.
Can you imagine turning a full time PDC Pro and living in Australia or would you think in the end one would have to move to England?
You have to live in Europe if you want to play full-time, living in Australia is not an option.
Are there a lot of big tournaments in Australia?
There are some very big tournaments now, some you would class as "majors" over there. The DPA Australian Singles, the DPA Matchplay and qualifiers for the Las Vegas Desert Classic are all big events, not to mention the Oceanic Masters, which is long-running, and of course the Australian Open Players Championship.
What is your favourite tournament?
I'd be lying if I didn't say the World Championship. It was a surreal but incredible experience, and I'm just so happy that I'm going to get to go back there again this year and hopefully do it all again.
And what about the skill level of the Australian players?
It's getting better. They are realising how good they have to be now. The one thing the Australian Order of Merit has always had has been someone who dominates, but I think that will change in the next couple of years. There are more people now who believe they can beat the great players than before, and I believe we'll see a lot more PDPA members coming from the Oceanic region in future years.
>>
Practice and mental strength