Darts1 reviews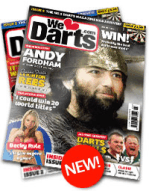 We love darts
"We love Darts" is a new english darts magazine which is published by a publishing house with the same name in Bristol since March. The store price is 2.99 British pounds, to subscribe for a year costs in the UK 29.90, in the European countries including Ireland 56.90 British pounds and in the rest of the world including the US 75.90 British pounds.
Already the outer appearance is rather attractive - the magazine looks bright and fresh and has got a totally different layout as other darts magazines. As regards the contents one can say the same - the sport of darts is brought home entertaining. You'll find a cheerful mixture of interviews, county darts results, puzzles and riddles, reviews of books, darts and dart equipment, reports about darts legends, darts girls and darts tournaments. There are news and trivia of all kind, tips by a pro (at the moment Bob Anderson) and always one Darts-Pub is presented. Darts-Pubs can become a "We love Darts"-Pub when they subscribe to the magazine.
I think all in all the magazine has turned out well - sometimes you'll find a fault, the UK open for example don't take place in the Winter Garden in Blackpool as shown on the picture, sometimes it's not easy to find the information between all the coloured pictures and the advertising - one could structure the contents a little bit more clear, some reports are written lively but are more superficial.
I would think all that can happen in the initial stage and I really recommend the magazine unreserved. You should of course realise that a monthly magazine can't be as topical as the internet - you'll probably know the results of the important tournaments already for a long time and the news might be some weeks old and universally known - that's something all magazines have to fight with now-a-days.
The only really snag is at the moment the extremely high postage to foreign countries - but as I was told one is well aware of the problem and tries to solve it by finding distributors.